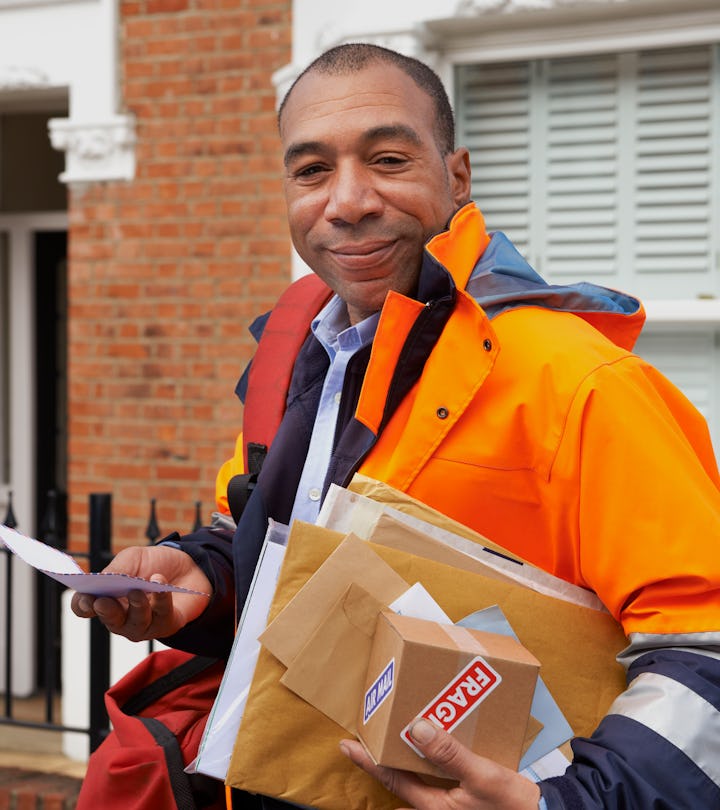 Peter Dazeley, Getty images
16 Thoughtful Holiday Gifts For Essential Workers
Not a homemade cookie in sight.
If you're making your list and checking it twice, there are few people you definitely don't want to forget this holiday season. These gifts for essential workers will show the teachers, doctors, nurses, servers, baristas, delivery drivers, and grocery store workers how much you appreciate all they've done in 2021 and beyond.
Even as life creeps back to normal, we still have essential workers to thank for everything from childcare, to package deliveries, food service, and of course, caring for the sick. And to show those people who help everyone's life run a bit more smoothly that you appreciate what they do, it's always thoughtful to give them a token of appreciation during the holidays. While money or a gift certificate is always appreciated, you could make the gift a bit more personal by shopping from this list. Chocolates and candy are a hit, as is something to make their day-to-day more comfortable, like a luxe hand cream or buttery lip balm.
Just remember that some workers, like those who are employed by USPS, aren't able to accept gifts over $20 in value or technically gift cards (although you can use your own judgment here). Read on for tons of thoughtful gifts for the essential workers in your life.
We only include products that have been independently selected by Romper's editorial team. However, we may receive a portion of sales if you purchase a product through a link in this article.
Affordable Gifts For Teachers & Childcare Providers
It's nearly impossible to show how much you appreciate the teachers, nannies, or daycare workers in your life. After all, you trust these people to care for your child, and without them, you'd never have gotten a break from your kids this year, even if that "break" is mostly for work or errands. Whether you give them an insulated mug to keep their coffee or tea warm for hours (because it's not easy to finish a hot cup of coffee with busy kids around), a fun and cheerful puzzle they can wind down with after work, a luxe scalp serum with a beautiful comb that encourages self-care, or a plant to brighten up their classroom, teachers and childcare workers will feel appreciated with one of these gifts. Between virtual school and keeping children masked and six feet apart, teachers deserve the world this year.
Practical Gifts For Healthcare Workers
Healthcare workers are heroes, a true bright spot in a dark few years. It's sad to think these medical workers went from being applauded at 7 pm to, in some cases, harassed over vaccines and mask mandates. It's safe to say that healthcare workers are tired, and a tangible gift for the holiday season is sure to be appreciated. Whether someone close to you is a doctor or a nurse, or your family was personally helped by a special healthcare worker, these gifts will express what words can't say.
Here you'll find a cool sculptural candle to light after a long shift, compression socks that are actually cute, or a waterproof watch that's a favorite among the healthcare community (thanks to its highly visible second hand for pulse readings and silicone water-resistant band) and a small hand lotion they can keep with them at work after all that hand-washing. There's something thoughtful here for any doctor, nurse, or healthcare worker on your list.
Memorable Gifts For Restaurant Workers
If you've enjoyed a meal outside or gotten takeout from your favorite spot (it's such a treat to not cook every single meal) then there are probably some restaurant workers you want to thank. The server who has your order memorized, a bartender who makes the perfect cocktail, and the chef whose food feels like home will all appreciate the gifts on this list. You could gift gluten-free, vegan, Japanese crystal candy that's made with seaweed (and tastes delicious), a CBD gummy for when their shift gets stressful, a buttery lip balm that will actually keep lips hydrated, or just a good old gift card to a food delivery service, because chances are they just want to relax after a long shift without cooking their own meal.
Useful Gifts For Delivery Drivers, Grocery Store Workers & Anyone Else On Your List
If you're anything like me, you receive way too many packages and go to the grocery store sometimes just for something to do. To thank the person who helped you find the flour, the one who safely delivered your online purchases and the mail, the barista who knows your coffee order by heart, the librarian who found you the best book, check out one of these gifts that will be universally appreciated.
Delivery drivers may enjoy a bluetooth speaker that magnetizes to the back of a phone so they can listen to tunes while they drive; festive chocolates are always a win, as is a special bag of coffee, or a blank notebook for jotting down notes and ideas on-the-go.
Whether you choose something practical or sentimental, essential workers go above and beyond taking care of their community on a daily basis, so how them how thankful you are for their service by getting them something special for the holidays, even if it's just a note showing your appreciation.
This article was originally published on