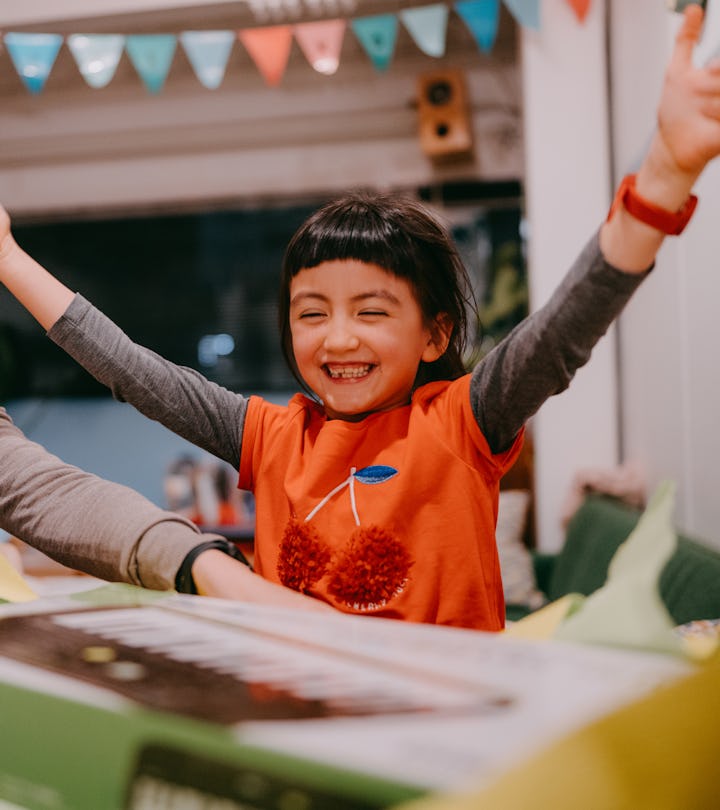 Ippei Naoi, Getty Images
What Do You Get The Kid Who Has Everything?
From babies to tweens and everyone in between, this gift guide is full of fun, educational, and unique options.
Shopping for kids' gifts sounds so simple. All you need to do is go to a toy store and snag the latest and greatest item, right? Wrong. It's not so easy when the kid in question already has a small toy store in their bedroom. Begging the question: What do you get the kid who has everything? You think outside the toy box, that's what. For kids who have everything, you need to look beyond the bestselling toys and go for presents that are unique, educational, and fun.
Fortunately, there's a great diversity of kid gift vendors these days and the products they're pedaling are arguably more imaginative and exciting than ever before. With this curated gift guide for the kid who has everything, you can easily answer the question of what to get to impress a child who has more than you thought was possible.
We only include products that have been independently selected by Romper's editorial team. However, we may receive a portion of sales if you purchase a product through a link in this article.
Gift Ideas For Babies
Even babies can have everything. To find a gift for an infant already heavy on the toys, look toward classic concepts with innovative changes. For instance, a sweet doll baby will always make a great gift. Or take the classic play mat. They're not a new toy, but add the ABCs to it and you have a play mat that helps children learn their letters. If you want to keep the Alphabet concept moving even further, check out this bag of soft ABC letters with colorful zoo animals. Watch them stare mesmerized at a VTech ferris wheel with charming animals along with 45 sounds and phrases. Or let them mix the music with the baby's first beat box. The baby who has everything surely doesn't have all that.
Gifts for Toddlers
The toddler years are such an incredible time of development. While they're building their fine motor skills, they're also exploring and getting a handle on their feelings. Channel those concepts when you go shopping for a toddler gift. Think of the comfort a soft, huggable doll could provide or the squeals of joy a bubble machine might elicit. If that's not enough to get a toddler who has everything excited, turn to the classic play tunnel or a bouncy horse, a toy that's been a favorite since it debuted in 1984. And if you need one more item, let your favorite toddler explore gravity with a sleekly designed Drop and Roll Tower.
Gifts for Young Kids
The post-toddler stage, a time we often refer to as the preschooler/kindergartener age, is ripe for imaginary growth. Kids love to play pretend. And any tool you can give them that encourages make-believe will likely be a winner. For instance, a pretend campfire for imaginary s'mores or a climbing triangle where they can play king of the mountain. Now is also an ideal time to introduce STEM toys, like a constellation projector. These gifts for young kids who have everything are each invitation to explore their imaginations. Preschoolers, kindergarteners, and elementary-aged kids love doing activities with adults, so take on a project together with a solar powered car or do a floor puzzle as a team. They can learn all about the energy of the sun while they zoom their new vehicle.
Gifts for Big Kids
With their newfound independence, big kids love to explore activities that are a little riskier and challenging than their little kid days. So think outdoors and hands-on when you consider gift giving for the big kid who has everything. That might be a zipline, sensory swing, or giant inflatable bouncer for hours of outside fun. Or, check out gifts that let them explore their own point of view, say, with an instant camera or intuitive detective skills with a Plugo Detective toy.
Gifts for Tweens
Gift giving for middle schoolers might make you sweat, but if you think about it (and think back to your own youth) there are tons of great gifts to consider, even for the tween kid who has everything. Think of it this way, they're curious about the same things teens are into, but they still have a playful tie to their childhood passions. They're on the precipice of so-called adulthood and personal hygiene might suddenly have their focus. That's why this curl comb set is so attractive. If the tween in question has everything, then they might like something really unique like LED wall art to decorate their room or a bean bag chair to make their personal space feel a little more grownup. For creative tweens, go with something like a 3D Pen (a cheaper option than a 3D printer) or a DIY Car Backup Sensor they can build themselves.
Finding a truly unique gift might take a little extra work, or you could just use this list as a cheat sheet to score the best gifts for the kid who has everything.
This article was originally published on