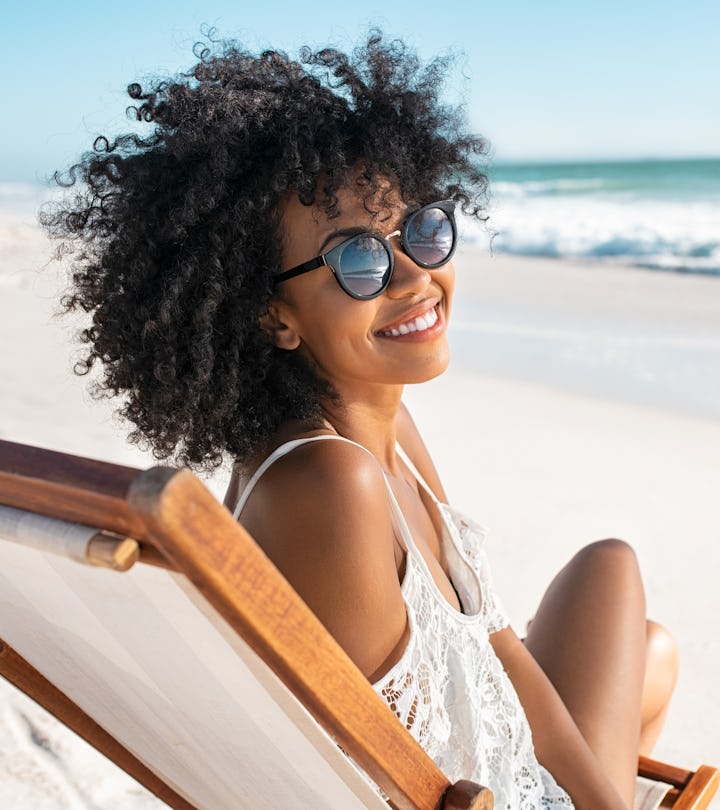 Shutterstock
Cancer, Your Horoscope Says Home & Family Will Be Your Top Priorities In 2023
This New Year will help you protect what (and who) you love most.
"Home is where the heart is" isn't just an expression for you, Cancer — it's your way of life. You give your all (and then some) to making your home as cozy and comfortable as it can be, especially for the people you love the most. It makes sense, then, that your Cancer horoscope 2023 is firmly focused on family, and all things that help make their lives better. But there's also a lot of growth that will occur in the New Year, too, if you're just willing to shed your shell.
Although you tend to be pretty cautious with your cash, you're going to see a significant shift with how you view money in 2023, Cancer. Knowing your nature, you won't ever be reckless with your earnings, but you'll find new and innovative ways to channel your funds into something more solid, particularly as it relates to your family. And it won't hurt to broaden your horizons when it comes to work, because a new career or the chance to move up due to a promotion might seem scary at first but will ultimately benefit you and your family.
If you're curious to see what your future holds, Cancer, read on.
Love
When it comes to your love life, Cancer, you have a protective shell around you (ha). But inside that tough exterior is a sweet (and sometimes shy) soul. You don't let a lot of people in, but when you do, well, they're part of your tribe for life. Luckily for you, 2023 promises a lot in the love department, according to Stephanie Gailing, an astrologer and author of The Complete Guide to Living by the Moon. "The last two-plus years may have been intense when it came to romantic relationships, notably related to learning what it's like to be vulnerable and foster greater intimacy," Gailing says. "You've done the work and now, notably after the first week of March, you're about to experience the rewards." What will that look like? You're more thoughtful and direct in your decisions, and you're not afraid to express what you really want — and what you don't.
Finances
You've never been one to waste money, but for your Cancer horoscope 2023, you might want to become more creative with your cash. "This is a time to highlight your talents, abilities and gifts and be open to collaboration with others," says Dr. MaeRuth McCantis, an astrologer. "Business through creative projects has a greater potential to increase income, and as a Cancerian, you have great insight and intuition on how to nurture financial ideas into money-making ventures." Take that potential partnership with a pal that you've been pondering for years now, for example. Now might be the time to explore working with others on a passion project that, according to the stars, could become quite lucrative, and more importantly, emotionally fulfilling.
There are some important dates to keep in mind when you're figuring out your finances. "When Venus is retrograde this summer—from July 22 to September 3—it will be residing in your 2nd House of Money," says Gailing. "As such, it will be a very important time for you to do some re-evaluating, whether of your investments, your approach to budgeting, and/or how the way you declare (or don't declare) your worth is impacting your earning potential." Be aware of lessons that can occur during this time period, as they'll help you with money issues in the future.
Family
No doubt about it, your heart beats for your family. Nothing gives you greater joy than spending time with your peeps in the comfort of your casa. This year, you'll see an expansion of that area of your life, whether it's a new home … or a new little bundle of joy. "For Cancers, everything is about home and family, and the good news is that from mid-July the Dragon is coming to your home. This takes place once in 19 years!," Gahl Sasson, an astrologer and author of The Astrology of 2023; Traversing the Bridge explains to Romper. "From July 2023 until Jan 2025 is the best time to grow your family, get pregnant, buy a property, and heal your household."
"As one of the most nurturing family-oriented signs, there's a lot of earth energy supporting your deep, feeling nature," adds McCantis. "With Saturn in Pisces and Jupiter in Taurus, the summer offers a wonderful opportunity to enjoy family." But as you're wont to do, make sure that you set aside time for self-care, too, which for you might mean plans for either a home reno or dreams of a new space entirely.
Career
Your career is on the upswing, Cancer, so be sure to make the most of it in 2023. "Take advantage of the growth opportunities you have this year, notably those that comes to you the first four-plus months of the year," advises Gailing. "Really focus upon your goals and how you want to expand your horizons." It's not a bad idea to start making those bigger-picture plans in May, when creative visualization can help you hone in on those one-year, five-year and ten-year career goals. Not only can they inspire the dreamer in you, Cancer, but they can also plant seeds of intention that will shape your future.
So really think about the mark you'd like to make, because the stars are aligning for it to happen. "There's an 11th house emphasis, where friends and associations could bring opportunities in unusual ways," explains McCantis. "Work that supports women in becoming more visible, especially with Pluto moving into the sign of Aquarius in late March, signals the importance of a new career identity, or expansion of an existing identity." Ultimately it will be up to you to determine the path you'd like your career to take, because according to the stars, it's ready whenever you are.
Your Cancer horoscope 2023 isn't radically different from your nature, kind crab. Essentially, it is taking all the matters of the heart that matter most to you (i.e. making sure your loved ones are cared for and your ability to provide stability for them), and expanding upon those points to create an even fuller and happier life.