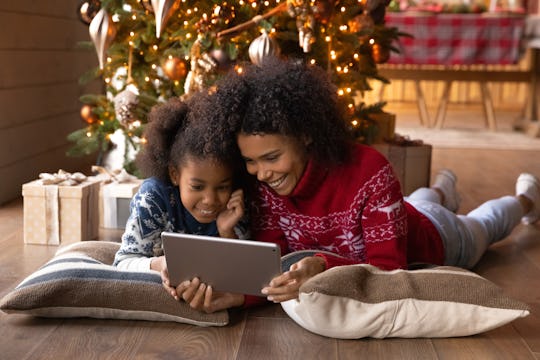 Shutterstock
These Christmas Jokes Are Hilarious For The Whole Family
When you think about it, Christmas is a crazy concept. After all, there are flying reindeer (with one whose nose lights up bright red, no less), the improbable suspension of time (really, how does Santa hit everyone's house in one night?), and the fact that perfectly sane people will allow a roly poly fella to literally break into their houses in order to leave gifts that enchanting elves have somehow manufactured to look surprisingly like the ones on store shelves. So it's easy to see that, secularly speaking, Christmas is quite comical. And that's why you might want to break out these Christmas jokes that are sure to give your kids the giggles.
Christmas is an exciting time of year no matter what type of tinsel tickles your fancy. Chalk it up to those lovely lights, magical music, a beautifully decorated tree (and the lure of lots of presents under it), and you're already starting off at an advantage. That's why telling your child a Christmas joke with a punchline about "Rude-olph" or "Fleece Navidad" is just icing on those sugar cookies you're planning to leave out for Santa. There's laughter, there's bonding — all the good stuff that the holidays are supposed to be about. And then your child can then share those Christmas jokes with their friends, and soon, they'll be sleighing second grade.
Get ready to fa la la la laugh, because these Christmas jokes are so silly, they'll make Santa's jiggly belly (and if we're honest here, ours too) shake from laughter.
Christmas jokes are just another way to spend some quality time with your kiddos. You can even have your child write out a joke that they can leave next to the cookies, so that Santa can have a laugh while he's eating his cookies.