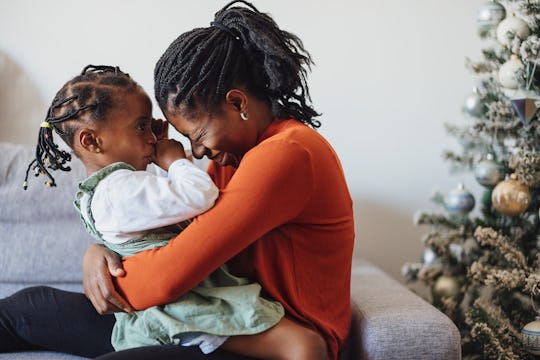 miniseries/E+/Getty Images
Keep The Whole Family Laughing With These Christmas Knock Knock Jokes
Sure, it's the most wonderful time of the year, but baby, it's cold outside, too. So with kids cooped up indoors who are also in full swing Christmas crazy mode, you're going to need fun ways to keep them occupied so they don't drive you bonkers. But if you're looking to entertain your child without having to steal a gift from Santa's stash, you can always tell them some Christmas knock knock jokes that are so elfin funny.
Of course, knock knock jokes are corny, but that's what makes them so cute and perfect for Christmas. And there's never really a wrong time for a knock knock joke. You might break one out while you're making dinner, or if you're on an excruciatingly long line waiting to see the mall Santa and your kids are squirming because they're wearing their winter coats.
But wait — there's myrrh. (Ha.)
You might even want to jot down one Christmas knock knock joke a day and stick it in your child's lunchbox. That way, they can sleigh all the students during lunchtime at school. Because there's no better way to make friends than to get everyone laughing, because a good joke definitely deserves a round of Santa-plause.
So even if you have a resting Grinch face during the holidays, sharing some Christmas knock knock jokes with your own elves will make it the most wine-derful time of the year — and you might not even have to pop open the Pinot Grigio.
Whether you're wrapping presents, baking some cookies, or just snuggling on the sofa, anytime is a good time for a Christmas knock knock joke. Because when your kiddo finally cracks a smile and laughs, yule be happy that you did.