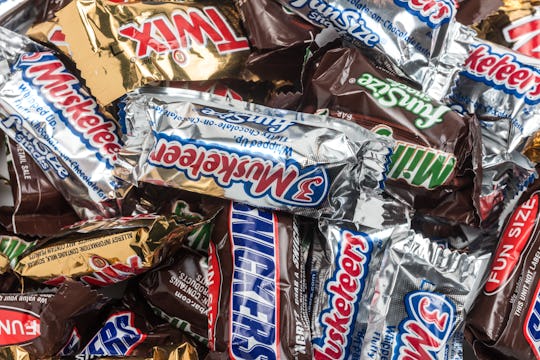 Juanmonino/iStock Unreleased/Getty Images
The Best Costco Halloween Treats To Stock Up On While You Still Can
There are so many candy-coated options to choose from.
You get your cakes and your croissants from there. And it's your go-to place for all your major bulk buys. So why wouldn't you get your Halloween candy from Costco, too? That's right, among all the displays of king crab, rotisserie chickens, and employees offering free samples again (woot woot), you're bound to come across boxes upon boxes of every kind of candy you'll need for October 31. But what are the best Halloween treats from Costco? The sweet things — and the savings — are pretty spooktacular.
Even though Halloween has been a bit wonky the past couple of years due to Covid, there's hope now for a bigger trick-or-treating turn out than before. That means one thing; you need to up your candy game. Because imagine cute little costumed characters coming to your door and having to turn off all your lights to pretend you're not home simply because you ran out of candy? It's not a good Halloween look, that's for sure. And this year, it's all about quantity, which is what Costco always comes through on. You won't have to be the witch on your block who only hands out a piece at a time to a princess or a pirate. Nope, you can give it out by the handfuls, and still have plenty left over. That's just what Costco does for you.
If you're looking for candy for those who come lurking at your door, then grab that big ol' wagon and cruise through the aisles at Costco, where you can crush the candy competition on Halloween.
If you're looking for the best Halloween treats at Costco, you've got plenty of candy-coated options to choose from. Whether you decide to buy some bulk candy for the kids coming to your door, or are looking for some treats to serve to your ghoulish guests, you can't go wrong if you're shopping at Costco. Be sure to pick up some cheap rotisserie chickens while you're at it, too.