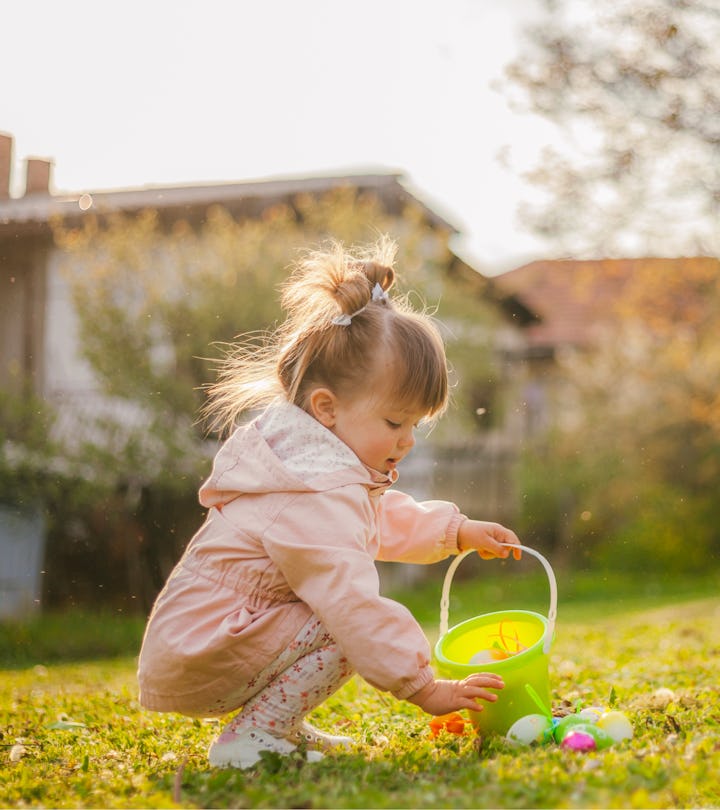 Milan Markovic/E+/Getty Images
14 Easter Egg Hunt Ideas For Toddlers That Go Beyond Yelling, "Find Them!"
(You may even get away with less candy, too.)
The simple days of drugstore candy-filled Easter egg hunts are now a thing of the past, thanks to Pinterest and social media. Now it's like everyone needs new Easter egg hunt ideas for toddlers lest their hunts appear lame in comparison.
From adding realistic details like bunny tracks to your egg hunt, to making smashable confetti eggs or turning the whole thing into an adult-assisted scavenger hunt, these novel takes on the traditional egg hunt will keep toddlers happily busy and avoid repetition from other egg hunts they may attend at church or in their community. That's another big difference from our own childhoods, when we enjoyed at most two egg hunts: one at a church and one at home. Now every town center, museum, zoo, or other public space offers its own egg hunt and related activities on the weekends leading up to Easter. By the time the actual holiday arrives, you may be desperate for novelty, too.
In which case, might I suggest that you look at some ideas for adult easter egg hunts? Because the boozy festivities might be just what the bunny ordered after dealing with squealing children and Pinterest-worthy projects.
This article was originally published on