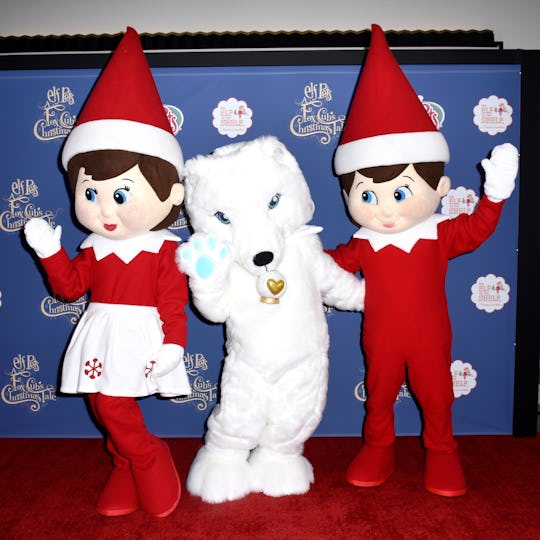 Vivien Killilea/Getty Images Entertainment/Getty Images
These Elf On The Shelf Apps Will Keep The Holidays Full Of Festive Fun
Get the most holiday entertainment mileage possible out of Elfie this year.
You've snapped pics with Santa, you've driven by the best holiday lights in town, and you've decorated cookies. By now, you've probably had your Elf on the Shelf out and about for a bit, and you may be in need of a dash of Christmas creativity. If you could use some help mixing things up for the kids, there are Elf on the Shelf apps out there that have your back.
After all, by now, the kids might be pretty used to that mischievous, moving-overnight elf, and no doubt, if you're a serious Elf on the Shelf parent, you've already put the little critter in a number of interesting poses and elaborate scenes. Once you're out of ideas, check out these Elf on the Shelf-themed apps, which will help you surprise and delight the kids all month long. And once you've got plenty of ideas, read on for Elf on the Shelf apps that have nothing to do with hiding your elf, but are just sweet, fun little games to get your kids in the elf spirit.
Free Ideas For Elves App
Good Housekeeping UK suggested the free Ideas for Elves app, which can be downloaded for phones ranging from iPhones to Android as well as to your tablet, lets you page through idea upon idea of elf inspiration — elf-spiration? — as well as follow step-by-step how-tos.
The clever concepts range from filling up whole doorways in your house with festive balloons and ribbons or playing "mini-golf" with your elf with candy canes and a mint as your equipment, not to mention cute and inexpensive ways to outfit your elf.
The app even includes such marvelously messy projects as making "snow angels" from a pile of flour in the kitchen (don't invite me over for that one, though, the cleaning sounds awful).
Scout Elf Ideas App
This is the same concept as the Free Ideas For Elves app, but straight from the official Elf on the Shelf people! You can see photos and tutorials from Elves on Shelves all over the world and what their families do to bring some cheer into their homes.
This app adds the extra help of sending notifications when it's time to bring your elf out of storage and send him back to the North Pole, as well as nightly notifications to remind you that you need to reposition the elf in time for morning. Major bonus.
But there are also a number of other Elf on the Shelf-themed apps available this time of year for your kids to play that won't take away any of the magic of discovering their scout elf in a pile of flour or candy canes. Here are a few:
This article was originally published on