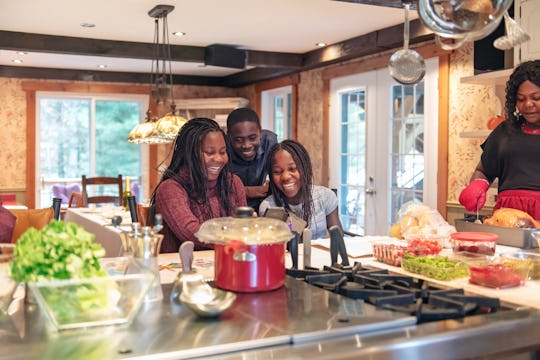 lisegagne/E+/Getty Images
These Thanksgiving Memes About Family Are *So* Relatable
Pass the potatoes and just laugh, you guys.
The holiday season is all about gathering with your family to celebrate, but when your entire family is gathered around the table at Thanksgiving, things can get... interesting. One way to capture all of the beauty and chaos of the holiday is with ultra-relatable Thanksgiving memes about family.
Honestly, it's easy enough to find the funny in Thanksgiving when you really need to. From memes about less-than-stellar cooking skills and overindulgence to those that clap back at prying mothers-in-law who ask way too many questions, there's a meme on this list to give you a laugh about whatever your family throws your way this Thanksgiving.
Depending on your family dynamics, a Thanksgiving dinner turn from a fun feast to a fight fest in a hurry. Nobody's family is perfect, but laughter is the perfect remedy for tense holiday moments. So, what do you do when your Aunt Linda won't quit hassling you about having another baby and your grandma insists that you didn't add enough salt to the green bean casserole? Don't dissolve into a puddle of embarrassment (or fury), and just make a meme instead. Or, scroll through these memes about family on Thanksgiving until you find the one that fits.