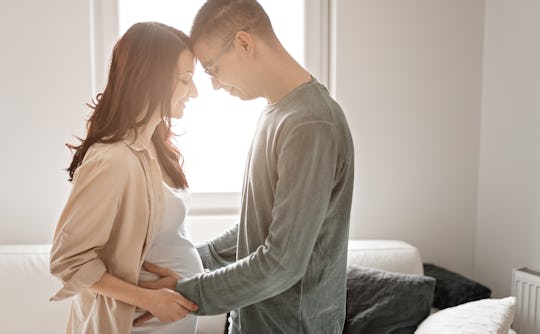 Aywan88, Getty images
30 Fun Father's Day Gifts For A Dad-To-Be
Because your guy deserves a gift on his special day, too.
So much is made of moms-to-be on Mother's Day. There are entire card sections dedicated to pregnant women who are about to celebrate their first-ever special day, and gifts galore that honor the fact that you're about to become a momma. And it makes total sense, since you're the one rocking the bump, (and he's, well, not). But dads deserve some acknowledgement, too. And that's why these 25 Father's Day gifts for the dad-to-be can give you some inspiration when you're shopping.
If you're struggling to find a gift for your significant other, it's absolutely understandable. Guys can be somewhat challenging to shop for as it is, and then having to purchase a present that highlights the fact that he's going to be a dad is even more difficult. Add onto that the challenge in buying something that is sentimental enough to underscore the importance of his foray into fatherhood, but will be something he actually wants as well. (Even though he may want an item for his car, fancy hubcaps don't exactly express the fact that he's going to have a car seat soon inside his vehicle.) And that's where these Father's Day presents can be a perfect mix of the two.
So if you're planning to purchase a present for the expectant dad, these gifts (which range from sentimental and sweet, to practical and funny) might make him even more excited to become a father.
We only include products that have been independently selected by Romper's editorial team. However, we may receive a portion of sales if you purchase a product through a link in this article.
Although it's easy for the focus to be on the mom and baby (or baby to be!), make sure to celebrate Dad too for his first Father's Day. And that way, he'll feel like a pivotal part of the whole parenting process — even if it's only asking him to assemble the crib.
This article was originally published on