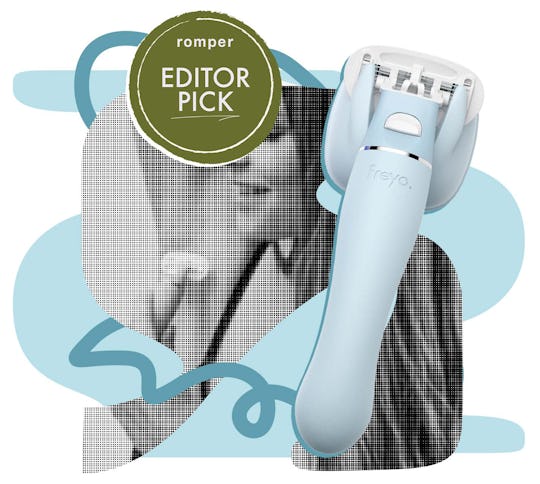 The Freya Razor & Vibrator Is Incognito, Effective, & Oh So Fun
It's not as scary as it sounds.
Had To Share
We may receive a portion of sales if you purchase a product through a link in this article.
When you think about a sex toy, you probably don't think of a vibrator that's also a razor. The odd electric toothbrush in a pinch, sure, but a razor? That just sounds like trouble. So when Freya contacted me to try out their new dual-choice system razor and vibrator, I was understandably dubious. The mechanics of it were a bit boggling. How could you possibly have a vibrator that's also a razor? I get that a waterproof, well disguised toy is a good idea, but why on Earth would you give it three sharp blades?
Precisely because no one would think your razor would be your vibrator if they feel the need to snoop. And I must say that I was pleasantly surprised by the ingenious design of this shower-friendly sex toy. Just to allay your concerns now, know that when the Freya Dual Choice Vibrator and Razor is in shaving mode, it will never vibrate, and if you want to operate it as a sex you, you have to take the three-blade disposable head off entirely. In short, you'll never be holding a vibrator with blades on it. Although, dear sweet summer child, why would you ever attempt that?
Stats
Price: $49.99 for the Vee starter kit that includes the razor and vibrator, two additional razor blade cartridges, a wall holder, and USB charger.
Colors: There are three colors: a light blue called "breezy," a coral called "peachy," and "royal" blue.
Who it's for: Whoever finds themselves in the need of both a razor and a vibrator, and will make use of both in the shower.
The design
The design is fairly simple when you come down to it, while including all the features you could ask for. The Freya has a four-inch long curved-head, rechargeable vibrator that acts as the handle to a titanium razor with a moisturizing strip. In order to use the Freya as a toy, you have to remove the blades first (thank goodness).
There's a textured surface on both sides of the Freya that acts as both a grip and point of stimulation when in vibrator mode. The whole thing docks on a suction-cup holder that sticks right to your shower wall. Again, if anyone were to spot it in the shower, they'd never know it's actually a sex toy.
How do you charge a Freya razor?
The Freya razor comes with a USB charger that connects to the product via a waterproof port. It only charges out of the shower with the blades removed.
Does the Freya vibrator and razor really work?
Because the Freya serves two purposes, that's a two-part question. As to how the vibrator performs, it's a solid little toy that scratches an itch in or out of the bath. The shape is great for people with clitorises because the way it forms to your hand pushes the curved top part to the area you need it most. While it's not the most powerful vibrator on planet Earth, it gets the job done, and gets it done quietly. (Your own sounds are on you, but we parents know how to be stealthy about sex.)
The razor is pretty great, and oddly, I really love the larger (yes, phallic) handle. It's softer and easier to grip than your standard disposable razor. The heft of it is also helpful when shaving, oddly enough. It forces you to think about how much pressure you're applying to your shave, making you less careless and prone to nicks and cuts.
The value
This is where the Freya razor-vibe combo really shines. It's only $50, which is already a bargain for a high-quality toy, especially one that is rechargeable and waterproof. But when you add in the fact that you can get a blade subscription that delivers four blades a month for $10? That alone is worth the price of admission with how comfortable it is to use. You're getting a lot of bang for your buck with the Freya.
Pros & cons
Pros
It's very discreet. It sincerely just looks like a particularly ergonomic razor. If any nosey family members peep your shower, they'll only know if they're in the know.
It feels great in your hand. Not all vibrators are easy to hold. The Freya stands out thanks to its comfortable shape.
The razor itself is really nice. It's on par with the high-end, disposable blade heads available on the market right now. The blades give a super close shave, provides tons of moisturizer, and are easy to change.
The subscription shaving cartridges are money-saving. At $10 per month for four cartridges, it's equal to a Harry's or Dollar Shave Club.
Cons
It doesn't have the most power. If you're used to a more powerful vibration, like that of a wand or rabbit-style toy, this likely won't have the oomph you're looking for.
The charge doesn't last more than a session or two. It is on the lower end of staying time for a vibrator, so if you're looking to turn into a prune because you've been edging in the tub for so long, it won't be from this vibe.
The suction holder can come loose. And that means the head may come flying off the razor when it falls.
Final verdict
As someone who has tested dozens of sex toys as a part of my job, I can tell you that the materials of the Freya are comparable to toys that are four times as expensive. The silicone exterior is soft and supple and the mechanics are solid. It's a great toy for solo play, but on the off chance you and your partner get some time alone in the bath? Bring it on. Just remember this is not a toy designed for anal penetration. You don't want to get things lost in there and then explain to a whole bunch of people in the emergency room just what exactly is stuck in your butt.
The TL;DR
In short, get this vibrator if you're looking for a medium-power vibe for water play, or if you just love a great razor.
Had To Share highlights the products and finds that Romper editors and contributors love so much, we just had to share in the group chat.