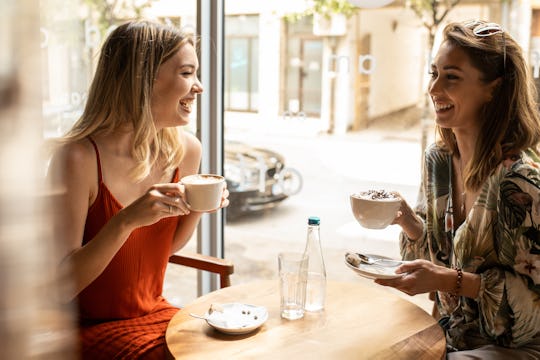 Jokic/E+/Getty Images
20 Hilarious Memes To Send Your Pal This International Friendship Day
Perfect for sharing with your squad.
Want to make sure your buddies know just how much they're appreciated? The friend memes to share for International Day Of Friendship are heartfelt, sweet, and sometimes hilarious. Because friends definitely deserve their own holiday, you can make this meme-fest an annual tradition.
Observed every July 30, the International Day of Friendship is a UN holiday dedicated to celebrating the role that friendships play in inspiring peace and bridging differences, according to Time and Date. And if a strong meme game is the basis for your friendship, then sharing these sweet and funny friend memes is a wonderful idea. Whether your buddies live in the same town or another country, your bond is unmistakable.
And if you really want to think deeply about the subject (and maybe cry a little bit), then here's what 6 girls had to say about their best friends. It'll make you think fondly about your childhood friendships, and maybe value your adult buddies a little more, too. And really, who doesn't want to hang out, color, and watch movies with their bestie?
Now that you're feeling a bit misty and nostalgic, here's the best memes about friendship you can share with your own crew. Let them know they're loved and appreciated.
Whatever you're up to in the final days of July, take a moment to share some sweet friend memes for the International Day of Friendship. Your bestie will love it.