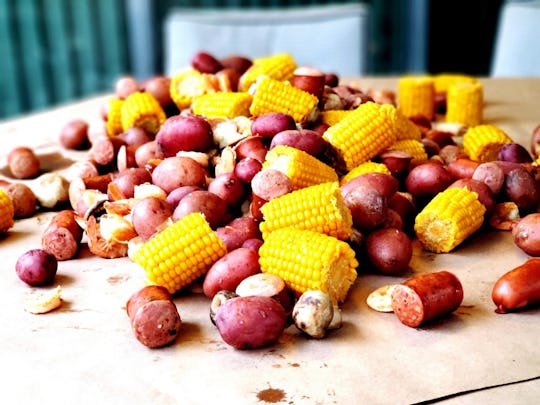 Shutterstock
29 Gluten-Free Sheet Pan Dinner Recipes For Busy Families
These will make your night so much easier.
Perfect for the days where you don't feel like cleaning a bunch of dishes (which is… every day), sheet pan recipes allow you to assemble all your ingredients on one easy-to-clean pan. The food may need some minimal prep work beforehand, but everything can be cooked at the same temperature for almost the same amount of time (some recipes will have you add the ingredients in phases), which as all parents know, is a major win in itself. Plus, these gluten-free sheet pan recipes can help families with food sensitivities get out of the same food ruts we all get into.
You know those times where you find yourself wishing you could just have a slice of pizza and call it a day (and by the way, there is a gluten-free pizza crust recipe included because I care about you). These recipes are almost as easy, and best of all, you can cover the pan in aluminium foil or parchment paper for a clean up that takes under five minutes.
I used to say, "I just don't like cooking," and while there are still things I'd rather do than cook, I now see my former statement as an excuse. I realized what I really meant when I said I didn't like cooking was that I was daunted by it, and so I avoided it the way I'd skip other things that scare me. But sheet pan recipes make it easy, and there's no shortage of these recipe ideas either; you can make Hawaiian steak, or shrimp, or even eggs on a pan you may have thought was reserved for baking cookies. Gluten-free cookies, that is.
Those hectic school nights will be so much easier (and more delicious) with the aid of these recipes. And don't forget: Fewer dishes to wash mean a better evening for all.
This article was originally published on