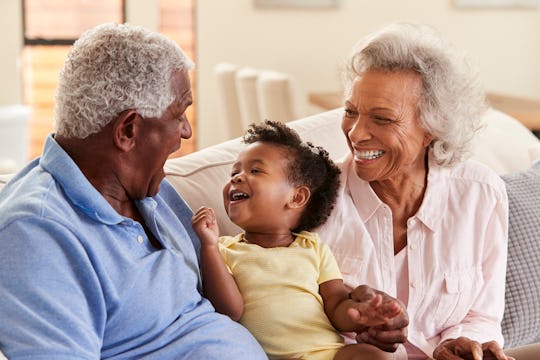 Shutterstock
Honor Grandma & Grandpa With These Lovely Grandparents Day Poems
They'd love anything coming from their grandbabies!
Grandparents Day is a time when we get to pause and look to our elders, the ones who raised us, and acknowledge how awesome their involvement is in our kids' lives.
Since 1978, after President Jimmy Carter officially proclaimed National Grandparents Day and congress passed the legislation, it has been a time to celebrate these angels on earth. One unique way is to share poems for grandparents.
Because of military life, my family spent the first five years of our twins' lives in different states than our parents. We had very memorable experiences, but something was always missing. The truth is I can't give my children what my mom can. "Mimi," as they call her, is the extra thick layer of icing added on top of their lives, and watching their relationship is so sweet. There was an unspoken depth of proudness in my dad's eyes when he sat and held our girls for the first time that I will never forget.
Grandparents bring the fun, and they give us relief by taking the kids when the weight of parenting gets heavy, and we just need a breather. On this day, there are many poems that offer ways to say "thank you," for who they are and all they do.
And share it in your own fun way. The kids can create a card, make it a song, or you can record them reading the poem. Whatever you choose, the grandparents will beam with pride at hearing these beautiful words!