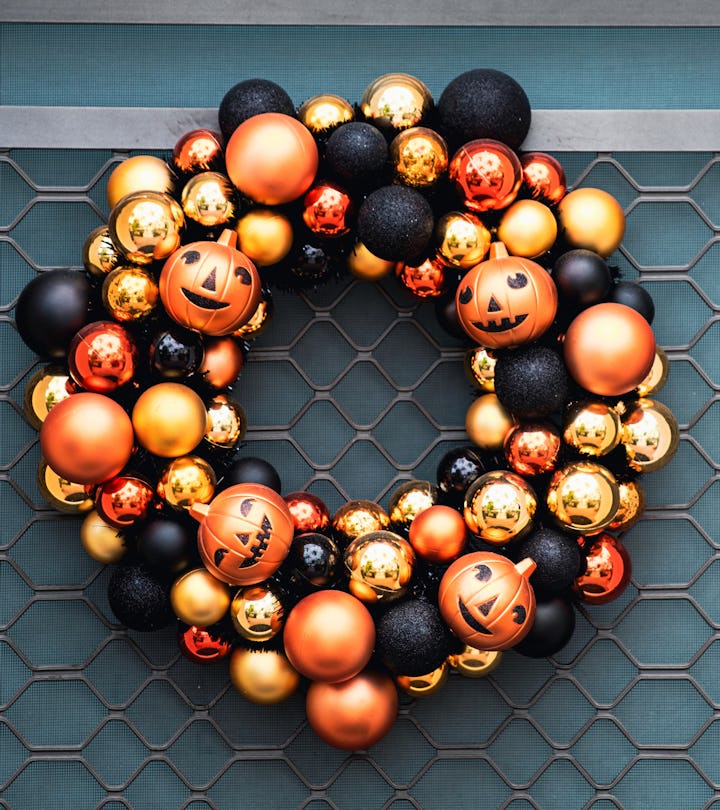 Shutterstock
11 Halloween Wreath Ideas To Welcome Spooky Season
They're so good, it's scary.
When you think of wreaths, this first thing that probably comes to mind is boughs of snow-dusted evergreen twisted into a circular shape. And, while winter wreaths certainly have a cherished role in holiday decor, wreaths defy season. At least, we think they do. With a few tweaks on the original classic, they can work for any holiday. With that in mind, what better way to greet a mob of trick-or-treaters than with one of these Halloween wreaths?
While most of the country still feels warm and the leaves have yet to fully turn, maybe you already decked your house or your porch out in Halloween decor to get a jumpstart on those fall feelings. A Halloween wreath can be displayed inside or outside. They can be downright spooky (hello, glowing eyeballs) or they can be pretty, subtle and perfect for leaving up through Thanksgiving. Whether you want to spray paint mini faux pumpkins, get creative with mason jar lids, or use fall flowers to make something truly stunning, the wreaths on this list will inspire your next project. Some are kid-friendly, too, so your little crew of ghouls and goblins (or Bluey and Peppa) can get in on the Halloween crafting.
These Halloween wreath ideas are all pretty easy and most of them are even fun to make with kids. What better way to welcome spooky season into your home than with one of these lovely wreaths.