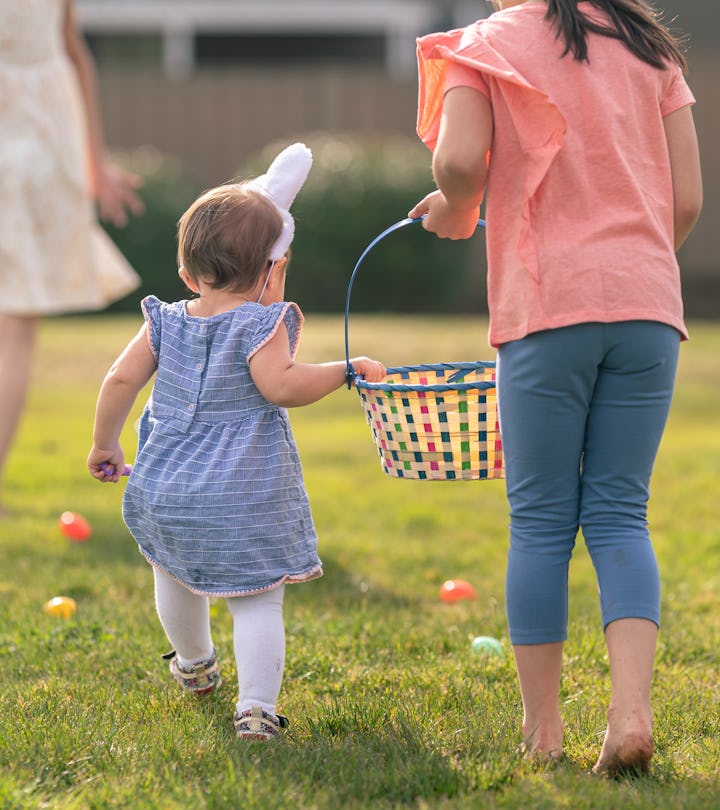 Fly View Productions/E+/Getty Images
100 Instagram Captions To Celebrate Baby's First Easter
Because there's nothing cuter than a baby in bunny ears.
Easter is the perfect time to grab bunny-eared headbands and put it on your baby so you can snap a sweet picture. But it's even sweeter if this is your baby's very first Easter, and it's obviously a moment you can't let pass without making it memorable and Instagram official. You might not normally go all-out, but now getting colored eggs, chocolate bunnies, flowers, and pastel decor so your baby can be photoshoot ready is a must! And you have to top it off with the cutest Instagram captions for your baby's first Easter.
For some people, Easter is a big holiday. And that means plenty of opportunities to capture your baby during your festivities. It could be a photo op with the Easter bunny (cue the tears), a sweet pic of them next to a real bunny, a crafting moment, time at church in their first Easter outfit, and so much more. And even if this day is low-key for you and your family, you can caption your modest spring-filled moments as well. Feel free to go crazy or keep it simple.
Here are a several captions you can use for this hopping 1st holiday!
Instagram Captions of your Baby with the Easter bunny
Who is cuter than the Easter bunny? My baby, all day!
There are a few tears, but no babies were harmed in the making of this photo.
Maybe next time they meet there'll be more smiles than tears.
On this 1st Easter, I think my baby would prefer the chocolate bunny!
Hoppy Easter!
Don't worry. Be hoppy!
The introductions were sweet on their first Easter.
I didn't know a bunny suit could make my baby this happy.
Happy 1st Easter to our sweet little bunny.
Just two friends with pointy ears.
Bunny kisses, Easter wishes.
There's so much fluffy cuteness in this picture.
What's a bunny without a baby?
Our lil bunny got here just in time to meet the big bunny.
Easter Instagram captions for Baby's outfit
Somebunny got super cute for their 1st Easter.
Enjoy this pristine pic of my baby in their 1st Easter outfit before it gets covered in egg dye.
Who is ready for their 1st Easter church service? This lil bunny right here!
The beauty of spring doesn't compare to seeing my baby all cleaned up in their first Easter clothes.
The first Easter outfit isn't complete without the bunny ears.
There's no bunny cuter than my baby in this clean fit!
Is it just me, or is my baby glowing for their first Easter?
Funny Instagram captions for Baby's first Easter
Should we dye the eggs or the baby's onesie?
The only thing sweeter than these cheeks are the chocolate bunnies.
You may only be able to crawl, but we'll let you find all the eggs.
Somebunny wants to try this chocolate. Not on your first Easter, little one.
Happy 1st Easter! Now, who's gonna tell him he's too young for this Easter candy?
Mommy & me Easter captions for Instagram
Somebunny loves you, Mommy!
My little bunny and I wish you a Happy Easter!
Hoppy Easter from Mommy and her little chick!
Easter blessings to you and your little bunny!
Together, we make the perfect Easter egg hunting team!
Celebrating Easter with my favorite little bunny!
Wishing you a hoppy Easter with your little one by your side!
My Easter basket is full of love thanks to my sweet little bunny!
The best Easter buddy I could ever ask for!
Nothing beats an Easter spent with my baby bunny!
Instagram captions for Baby's first Easter egg hunt
Hop into spring with an Easter egg hunt!
Easter egg hunting: the ultimate scavenger hunt!
Ready, set, hunt! Happy Easter everyone!
Eggs-pect the unexpected on an Easter egg hunt.
Every bunny needs an Easter egg hunt!
Searching for eggs and smiles this Easter!
The hunt is on! Happy Easter to all!
May your Easter basket be filled with lots of eggs and joy!
Follow the bunny trail to an amazing Easter egg hunt!
A little bit of candy and a whole lot of fun, that's what Easter egg hunts are made of!
Easter egg hunts are egg-citing for all ages!
Easter egg hunts bring out the kid in all of us!
The thrill of the hunt: Easter edition!
Hippity hop, let's go egg hunting!
Wishing you a hoppy Easter filled with lots of eggs and happy memories!
More sweet Instagram captions for Baby's first Easter
On this first Easter with our little one, we are so grateful for this life.
Easter and babies are alike, they both exude newness and hope!
This is our first Easter with our little one!
Easter = new beginnings. So do babies! Happy 1st Easter.
We are egg-cited for this first Easter together!
Happiness is us together on our first Easter.
The joy on your little face is exactly how we feel about celebrating Easter for the 1st time with you!
No bunny loves you like we do baby.
Hoppin' into 1st Easter like...
Happy Easter from our little bunny!
Our baby's first Easter and already hunting for eggs!
Hoppy Easter from our growing family!
Easter just got a whole lot cuter with our little one!
Our little chickadee is celebrating their first Easter with us!
Blessed and grateful to spend our baby's first Easter together.
This Easter, we're feeling extra grateful for the gift of our little one.
Our little miracle is celebrating their first Easter, and we couldn't be more thrilled.
Easter blessings to all, especially to our sweet little bunny!
The Easter Bunny brought us the best gift this year - our precious baby!
Hippity hop, my first Easter is here!
My first Easter basket is full of love and joy!
Easter egg hunting with my favorite bunny!
I'm egg-cited for my first Easter!
Easter blessings and love to all!
Celebrating my first Easter with the ones I love!
My first Easter outfit is bunny-tastic!
Easter cuddles and kisses from me to you!
Hatching into Easter with lots of love!
Easter is even sweeter with my little bunny by my side!
Hoppy Easter from our little bunny!
Our little chickadee's first Easter.
A basket full of firsts, including baby's first Easter.
My heart is hopping with joy this Easter thanks to my little bunny.
Celebrating our first family Easter with our little blessing.
Our little one is egg-cited for their first Easter!
Our baby's first Easter: a new chapter in our family's story.
Baby's first Easter: the beginning of many Easter memories to come.
This Easter, we're feeling extra grateful for our little miracle.
Our little bundle of joy makes this Easter even more egg-cellent!
Hippity hoppity, it's Baby's first Easter!
My little bunny's first Easter 🐰🐣
Egg-cited to celebrate baby's first Easter!
My little chickadee's first Easter 🐥🐰
Baby's first Easter basket 🧺🐣
Happy Easter from our little bunny to yours 🐰🌸
Easter kisses and cuddles from our little one 🐰💕
Hoppy Easter from our family to yours 🐰🥚
Our little Easter miracle 🐣💕
The best thing to come out of Easter - our sweet baby 🥰🐰
This article was originally published on