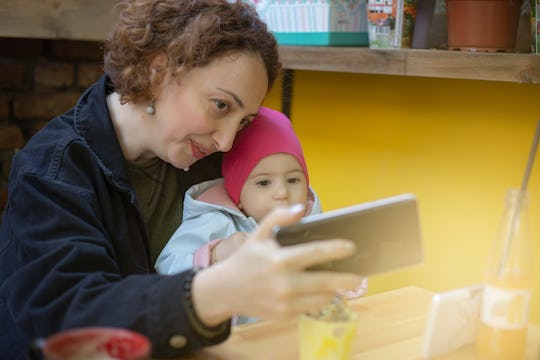 Shutterstock
These 22 Insta Captions Are Perfect For Your Many Mom & Baby Selfies
When you have a new baby, you probably spend a fair amount of time gazing at their perfect, tiny face, and when that gets old, you may stare at their perfect, tiny face... through the camera lens of your phone. Sweet pics of you and your baby, whether they be quick selfies or gorgeous professional photos, are bound to wind up on Instagram, and for images this cute, the baby emoji followed by a bunch of cartoon hearts just isn't going to cut it (sorry). The best Instagram captions for pictures of babies and mothers can be sweet, earnest, nostalgic, or funny; sometimes all four at once.
In a perfect world, everyone you love would be able to meet your new baby right away, but between living far apart and scheduling conflicts, often people close to you first see your baby on the 'gram. The right Instagram caption for pics of moms and babies can connect with your audience; it makes the image feel more substantial and gives a glimmer into what's happening in the picture and how you were feeling when it was taken.
"Part of the power of captions is that sense of community they cultivate. Experts say they serve as the bridge that makes us feel more connected to the person we're following," per the BBC. And if you can't see someone in-person, it's nice to feel connected through a photo. Read on for 17 Instagram captions that will make the (millions of) pictures of you and your baby even more memorable.
This article was originally published on