What's your favorite color?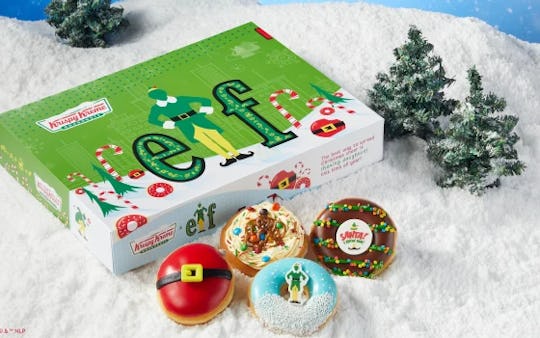 Krispy Kreme
Krispy Kreme's Elf Doughnuts Include A Nod To Buddy's Famous Spaghetti Dish
If you're gonna celebrate the movie's 20th anniversary, you better do so with sugar. And lots of it.
If there's anything Buddy the Elf might love more than maple syrup (and candy and candy corn), it would absolutely be these Krispy Kreme doughnuts created to honor the 20th anniversary of Elf. The box alone, featuring Buddy in all of his green and gold glory standing in a wintery background of swirly twirly gumdrops, is enough to get anyone nostalgic for the 2003 hit holiday comedy. But when you open the box to see what's inside... only a cotton-headed ninny-muggins could turn down these delightful treats.
Starting on Friday, Nov. 24, doughnut and Elf-loving customers can order Krispy Kreme's new, limited-edition Elf Doughnut Collection. Which means you can have a box of delicious Krispy Kreme doughnuts with three new flavors and one returning favorite. As it's been fully 20 years since Will Ferrell donned his iconic gold tights to embody Buddy the Elf, a human raised by Papa Elf (Bob Newhart) after he climbed into Santa's (Ed Asner's) sack of toys at an orphanage. Buddy has to head to New York City to meet his dad Walter (James Caan), fall in love, eat spaghetti with maple syrup for breakfast, and cross the Lincoln Tunnel. Where, we can only assume, he would happily buy himself a four-pack of these limited edition doughnuts. Especially the one that looks like his famous spaghetti breakfast concoction.
The doughnuts come in a pack of 12 or a pack of six and have holiday-specific flavors, including the ever-popular Santa Belly Doughnut:
Buddy Snow Globe Doughnut: Original Glazed® Doughnut dipped in sugar cookie light blue icing and white sprinkles, topped with powdered sugary snow and a chocolate "Elf" piece.
Buddy Makes Breakfast Doughnut: Original Glazed® Doughnut topped with cake batter spaghetti buttercreme, milk chocolate colorful candies, sprinkles, and a maple drizzle.
Christmas Lights Doughnut: Original Glazed® Doughnut dipped in rich chocolate icing, drizzled with green icing, and topped with rainbow sprinkles and a chocolate "Elf" piece.
Santa Belly Doughnut: A Santa belly doughnut filled with Cookies & Kreme™ filling, dipped in red icing and decorated with Santa's belt and belt buckle candy piece.
These Elf doughnuts will be available for a limited time in select Krispy Kreme stores across the country as well as in select Walmart, Kroger, Food Lion, Publix, Stater Brothers, Wakefern, and more outlets. "Our new Elf-inspired doughnuts honor memorable moments from the movie in the most delicious way possible and embody its fun and festive spirit," Krispy Kreme Global Chief Brand Officer Dave Skena said in a press release.
We suggest going fully meta and eating Krispy Kreme's Elf doughnuts while watching Elf. After a dinner of spaghetti topped with Pop-Tarts and maple syrup if you're really going to go for it.