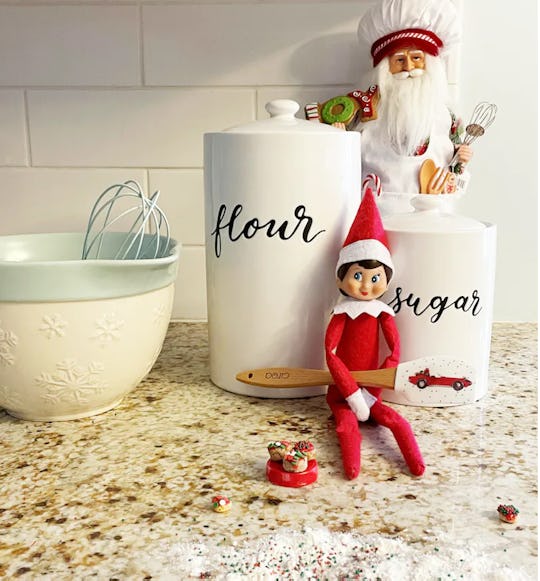 Jennifer Parris
15 Easy Elf On The Shelf Ideas For When You're Feeling Lazy
Make things merry and bright, in minutes flat.
There's something so pretty and simultaneously petrifying about the holidays. In one moment, you're waxing nostalgic about chestnuts roasting over an open fire, and in the next, you're losing your breath wondering how the heck you're going to get everything bought, baked, wrapped, and decked before it's too late. And then, in comes the Elf on the Shelf. Yes, the elf is about to make its entrance, and you're going to need some 'lazy mom' easy Elf on the Shelf ideas to get you through the holidays that require zero effort but offer maximum laughs from your littles — and here they are.
But can we back up for just a second? To be fair, the Elf on the Shelf is a commitment, of both time and creativity, two things you might be short on right about now. Because no matter when you welcome the doll into your digs, you're going to have to do it every single day until Christmas. And when you're running around trying to keep things merry and bright, moving a doll around your house each morning before your child wakes up (and in a fun and festive scene, no less) you're just going to end up with Grinch vibes. So maybe it's not that you're "lazy" per se, but just a busy parent trying to survive the holiday season and while you want to make everything magical, you're simply on a time crunch.
For our slothful sisters out there, we see you. And these incredibly easy 'lazy mom' Elf on the Shelf ideas will make your kids happy and not make you crazy, which is a total holiday win/win.
If you're looking for 'lazy mom' easy Elf on the Shelf ideas, look no further. You can pull off these easy ideas in mere minutes in the morning and then go back to sleep until your kid comes looking for you…and their elf, too.