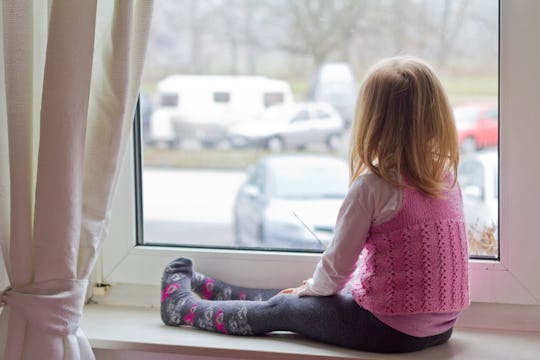 Westend61/Westend61/Getty Images
Mom On TikTok Asks Daughters Why They Want To Be Boys & Same, Girls, Same
They make some valid point, not gonna lie.
It's strange to think of womanhood as a tale that might frighten little girls. Might have them feeling nervous about growing up because they just don't want to have to go through some of the less appealing elements of womanhood. But when these two little girls explained why they would prefer to be boys to their mom in a hilarious video of TikTok, it made absolute sense. Sobering, eye-opening, perfect sense.
TikTok user Madds Meyer from Canada recently shared a video where she asked her two young daughters why they wanted to be boys. At first, their response was simply. "Because we like being boys instead of girls," answered her younger daughter. Then the older one chimed in with a response that even shocked her mom. "Because your vagina bleeds," the young girl explained. "We don't like it. We're too nervous."
Even though Meyer laughed, it was clear her daughters were absolutely serious. And that they had been paying close attention to her every move when they've been frequently invading her privacy. "The life of a mom who has no privacy and kids that take everything in like a little sponge …," Meyer captioned her video.
TikTok users took to the comment section to commiserate with these two little girls, who've not been shown what's coming down the pike for them in the future.
"I've been bleeding for 25 years and it still makes me nervous," wrote one, while another wrote, "she's been silently contemplating/freaking out about this for days."
One parent took to the thread to share a similar situation she had with her son, "My son told me he wanted to be a girl.. when asked why.. he said cause he wanted to have a baby."
Many TikTok users commented that they were also nervous about getting their period. "same girl same," wrote one. "The way big sis comes out of nowhere with some valid points," wrote another, while this woman added, "I feel the same way..."
Talking to girls about getting their period can be tricky for parents, so in a way it's kind of handy that Meyer's daughters figured it out on their own. Although she has an interesting conversation ahead of her, though. A conversation most parents of daughters will have to have at some point. And yes, there are excellent books and guides and websites offering tips on how to have that talk with your girls. Even movies like Disney's Turning Red might be helpful.
But let's be honest; it's just kind of bad news however you slice it. And I suspect these two little girls won't be fooled by any positive spin.