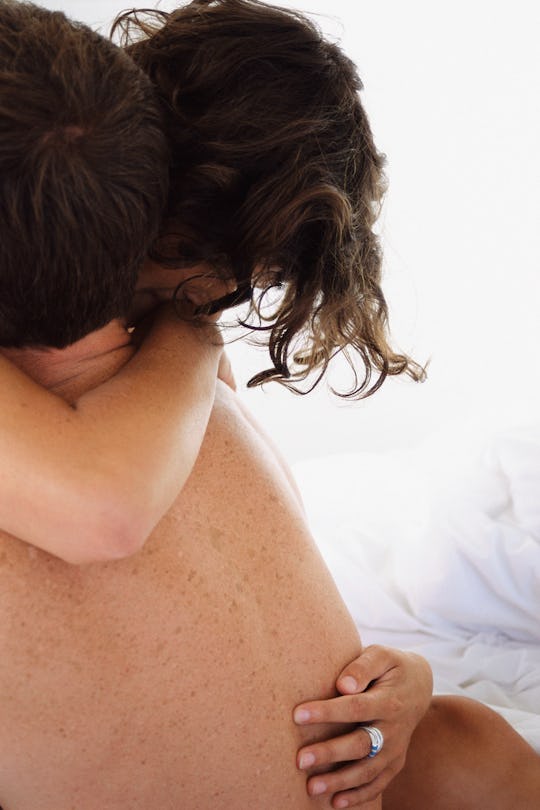 Image Source/Image Source/Getty Images
10 Differences Between Male & Female Orgasms, According To Science
They feel amazing for everyone — but not exactly the same.
After an especially mind-blowing session between the sheets, you've probably been asked (or asked your partner), "Was it good for you, too?" Turns out, that's not such a cliched question. Scientific research shows that there are some major differences between male vs female orgasms — or orgasms for people with vulvas and people with penises.
The human body is a pretty cool thing. Not only do we have the ability to produce new life, but we also have the capacity to have a great time while doing it. "The function of orgasm has been posited in more sociobiological terms — body chemistry changes and orgasms shared with a partner can promote bonding, some research suggests," Carol Queen, Ph.D., sex educator and staff sexologist at Good Vibrations, tells Romper. "Also," she adds, "we are all the same in utero until differentiation! It makes sense that a basic bodily function can happen in all genders."
But when it comes to this uniquely human pleasure, there's a lot you may not know. For instance, what happens to our brains during orgasm? Is it true that people with vulvas can ejaculate during climax the way people with penises do (often referred to as "squirting")? Is frequency in orgasms the same — and what's the secret to more frequent sexual satisfaction?
Here are some fascinating science-based facts about your climaxes. It may give you some insights into what your partner is experiencing in bed, and perhaps help you understand your own body a little better.
While orgasm for people with varying anatomy has its differences, we're not as divided as it might seem. As Queen put it, we're not opposites, "Our culture is so dedicated to a binary mindset that it tends to ignore similarities and focus on differences." At the same time, every human's sexual experience isn't going to fall perfectly into a box of "this or that" and certainly isn't always going to be represented in every study. The bottom line is we're having a unique, but also shared experience that can be improved with communication and understanding of yours and your partner's bodies.
Experts:
Carol Queen, Ph.D., sex educator and staff sexologist at Good Vibrations
Chanel Jaali Marshall, sexologist, HIV educator, doctoral student, and president and founder of Jaali Co.
Studies:
Georgiadis, J.R., Reinders, A.S., Paans, A.M., Renken, R. and Kortekaas, R. (2009), Men versus women on sexual brain function: Prominent differences during tactile genital stimulation, but not during orgasm. Hum. Brain Mapp., 30: 3089-3101. https://doi.org/10.1002/hbm.20733
Pastor, Z. (2013), Female Ejaculation Orgasm vs. Coital Incontinence. J Sex Med, 10: 1682-1691. https://doi.org/10.1111/jsm.12166
Frederick, D.A., John, H.K.S., Garcia, J.R. et al. Differences in Orgasm Frequency Among Gay, Lesbian, Bisexual, and Heterosexual Men and Women in a U.S. National Sample. Arch Sex Behav47, 273–288 (2018). https://doi.org/10.1007/s10508-017-0939-z
Puppo, V. and Puppo, G. (2015), Anatomy of sex: Revision of the new anatomical terms used for the clitoris and the female orgasm by sexologists. Clin. Anat., 28: 293-304. https://doi.org/10.1002/ca.22471
This article was originally published on