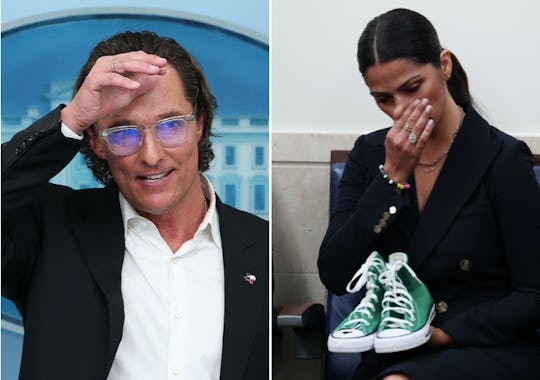 Win McNamee/Getty Images News/Getty Images
Matthew McConaughey Shares The Gut-Wrenching Story Of An Uvalde Victim's Shoes
"She wore green high-top Converse with a heart she had hand drawn on the right toe."
Matthew McConaughey and his wife Camila Alves McConaughey visited the White House on Tuesday to call for stricter gun laws. McConaughey, who is from the small town of Uvalde, Texas where a lone gunman entered Robb Elementary School and killed 21 people, including 19 children, got emotional at times during his speech. Particularly when he shared the gut-wrenching story of one young Uvalde victim, who loved animals and nature and had a favorite pair of shoes she wore to school every day.
During his speech at the White House, the Serenity actor told the story of a young student named Maite Rodriguez, who wore "green high-top Converse with a heart she had hand drawn on the right toe because they represented her love of nature." McConaughey's wife Camila held the shoes in her lap during his speech. He went on to explain that Maite wore those shoes every day, until May 24, when, as McConaughey noted, that "these are the same green Converse on her feet that turned out to be the only clear evidence that could identify her after the shooting."
Maite's shoes were the only thing left to identify her because the AR-15 that the gunman used to shoot these children left them, as McConaughey described in his speech, "mutilated." DNA tests were necessary to identify many of the victims due to the extent of their injuries, with families lining up to go through testing outside the school. "Many children were left not only dead but hollow," McConaughey continued.
McConaughey, who is himself a proud dad of three children, was in Washington, D.C. to talk to President Joe Biden about gun control. But he was also there to share the stories of victims of the Uvalde shooting. Kids like Maite, who wanted to become a marine biologist someday. And 10-year-old Alithia Ramirez, who dreamed of going to Paris one day. The actor and his family met with survivors after the horrific shooting, and he told journalists on Tuesday that there was one "common thread" with all of the families. "The common thread — independent of the anger and the confusion and sadness — it was the same. How can these families continue to honor these deaths by keeping the dreams of these children and teachers alive? Again, how can the loss of these lives matter?"
Matthew McConaughey is doing his best to make sure those stories get told. To make sure that a little girl who wore her green Converse with a heart on the right toe is not forgotten.