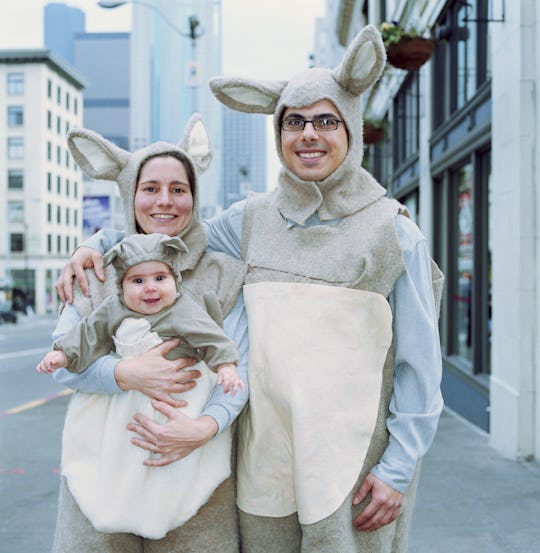 Karen Moskowitz/The Image Bank/Getty Images
18 Costume Ideas For Parents & Baby To Slay Their First Halloween
We may receive a portion of sales if you purchase a product through a link in this article.
One of the most exciting things about having a baby is getting to choose their first Halloween costume. As parents of older kids know, it's not long before your little one will want to choose their own All Hallow's Eve disguise, opting for a Paw Patrol or Disney Halloween costume. But that precious first year, you can find the perfect Mom, Dad, and baby Halloween costume trio of your dreams.
Some parents plan their first family costume way ahead of time (*ahem* guilty), some choose multiple mom, dad, and baby Halloween costumes and hope they have more than one occasion to dress up for (guilty again), and some are so caught up in the new baby haze that it's almost Halloween before they even notice it's October yet. And hey, there's no shame in that. Those first few weeks and months are a doozy with a baby.
That's where these ideas come in. If you haven't had time to think about your family of three's costume yet, or need some inspiration for your family's Halloween costumes, there are so many approaches you can take, from being the cutest Kangaroo (or other type of animal) family, to dressing up as iconic characters from your favorite TV show or movie of the year. And even if these aren't the perfect fit, they should spark some ideas of other iconic trios you can fashion your family after.
Did you find your family's perfect mom, dad, and baby Halloween costume here? No matter what you choose, take lots of pics to remember it by.
This article was originally published on