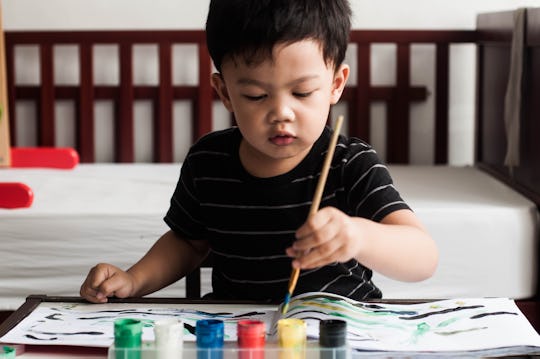 Karl Tapales/Moment/Getty Images
Here Are 29 Nicknames For Sons That Aren't Buddy Or Chief, For A Change
Not that they aren't cute nicknames.
A lot of thought and consideration goes into naming your baby. You do research, you write out the first and last names together, and you try saying it out loud 100 times so that you can see how it sounds. But no matter how much you might insist on relatives and the newly minted grands on calling your child by his proper name, somehow a nickname slips in and gets stuck. Your best bet at having any say over what your kid is called is to find some fun nicknames for sons that aren't Buddy or Sport or Chief and pick the best one for your little guy.
Of course, there's nothing wrong with Buddy, Sport, or Chief. But when you go to such great lengths to come up with an original proper name, it seems like a waste to throw it all away on a nickname shared by countless male children (and sometimes pets). So why do we so often wind up giving our kids nicknames that have nothing to do with the names on their birth certificates? First off, it's usually a show of affection. Plus, in some cases, a nickname better suits your child's personality than their given name. And while a formal first name might be to honor a relative, your child's nickname is inherently their own, and truly represents them as an individual.
These 15 nicknames for boys are a testament to how cute, kind, and utterly adorable it is to have a son — antics and all.