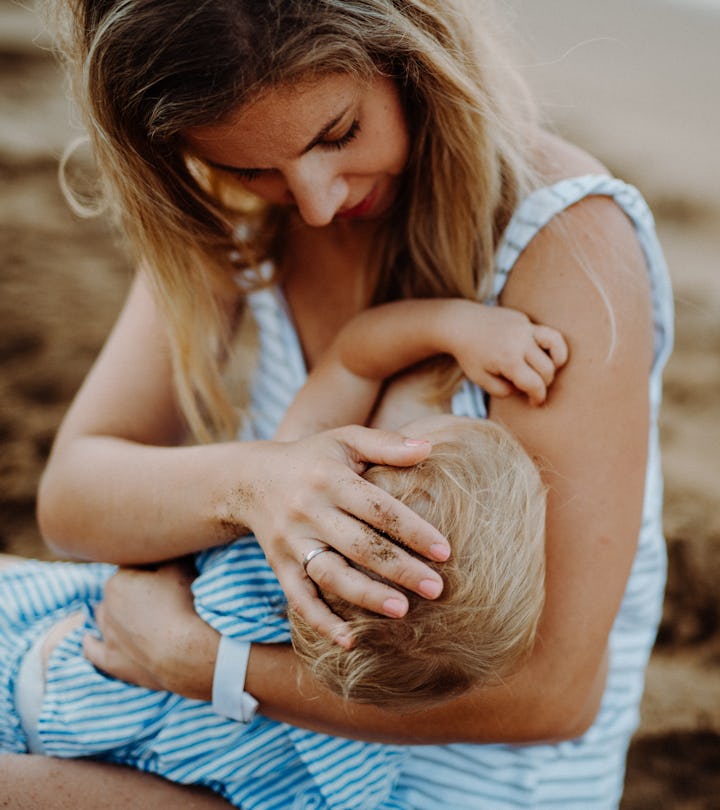 Jozef Polc / Getty Images
These 16 Swimsuits Make Nursing By The Water So Much Easier
Even pumping is a breeze in these suits.
As anyone who's ever tried to wriggle out of a one-piece bathing suit in a public bathroom already knows, bathing suits aren't typically designed with comfort or discretion in mind. This reality only gets more pronounced when you're trying to breastfeed without a nursing cover at the beach or pool, but the best nursing swimsuits take the stress out of feeding your baby waterside.
With these comfy nursing suits, you won't need to sit in a gross bathroom or try to cover yourself with a towel. They're designed for nursing comfortably, and they won't require you to fully take off your top (because there's nothing worse than peeling off a wet bathing suit). From hidden panels to deep V-necks, overlays, and clip-down straps, these suits are designed with new moms in mind. You'll find bikini tops you can pair with shorts or a bottom you already have, and plenty of one-pieces in both solids and prints. Many of them also have space for breast pads or are double-layered, so leaks are no biggie. There are also options available here that aren't made to specifically be breastfeeding or nursing suits, but can work even when you're done nourishing a baby with your own body.
So if you're planning to soak up all of summer outside this year, know that breastfeeding can be relaxing and enjoyable, even in a wet bathing suit.
Going to the beach with young children can be stressful (so much sand on everything) but figuring out how to comfortable nurse doesn't have to be an issue. These nursing swimsuits will take you from pregnancy through postpartum, and they all make breastfeeding or pumping by the water as easy as it can be (which is certainly easier than wriggling out of a wet bathing suit).
This article was originally published on