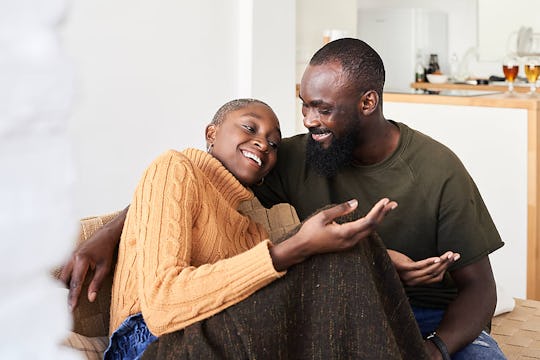 Ivan Gener/Stocksy
20 Old-Fashioned Couple Nicknames We Should Bring Back
It's time to bring back Dreamboat.
Like anything else, pet names that couples give each other go through trends (remember the popularity of bae a few years back)? As it turns out, couples have been making up sickeningly sweet names for one another since forever. In fact, there are some pretty great old-fashioned couple nicknames that we should bring back now. These old-timey pet names are a great way to make your partner feel loved (and maybe mildly confused).
So what's in a nickname, after all? In general, these cute couple nicknames appear to mean positive things for a relationship, and it's super common to call your S.O. an abbreviated name. Even Prince Harry and Meghan Markle have sweet nicknames for each other; Haz and Meg. As long as both partners are cool with the specific nicknames, then it does appear to help with their bond. (That said, not everyone likes pet names, and that's OK too.)
So if you want to shower your partner with affection, look no further than some of the best romantic couple nicknames of all time. It's a fun and playful way to keep your relationship interesting, and these types of names can really bond you as a couple. And if the names are far too embarrassing to repeat in public, well, that's even better. Read on to find the next name for your beloved.
No matter how long you've been with your S.O., referring to one another with cutesy pet names is a simple way to keep the relationship playful and fun. By using the retro old-fashioned couple nicknames for one another, you're reinforcing your bond in a sweet (and silly) way.
This article was originally published on