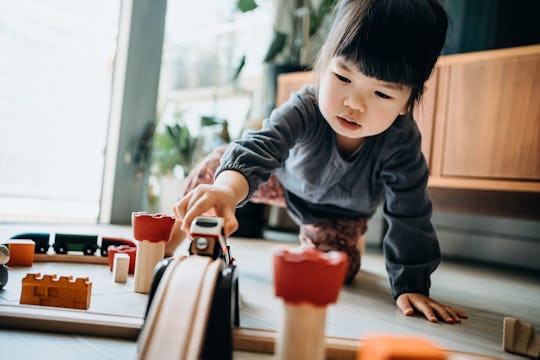 d3sign/Getty
20 Nicknames For Your Daughter That Aren't Princess
Because sometimes you need something different.
Isn't it funny how after hours spent poring over baby naming apps, arguing with your partner (you love Juniper, they prefer Jane), and making lists of favorites, most of us wind up using a nickname for our kid 90% of the time? Sprout. Pumpkin. Cupcake. But out of them all, none inspires more opinions than "princess." While many people love it, others find it regressive, limiting, and anti-feminist. Fortunately, if you're one of those people, or you just want to use something more creative, there are lots of nicknames for your daughter that aren't "princess."
The debate has been ongoing for years now. While some, like Cinderella Ate My Daughter author Peggy Orenstein, suggest that princess culture leads to "self-objectification" in little girls that persists as they grow up, others suggest that princesses can have a positive effect. In fact, a recent study from researchers at Brigham Young University found that preadolescent girls can actually be empowered by their love of princesses in the long run. Personally, I think that variety is the spice of life. Princesses are fun and inspiring, but so are superheroes, veterinarians, spies, and Princess Superhero Veterinarian Spies. It's cool if a little girl wants to be a princess... as long as she knows that princess is just one of limitless choices.
What we are called becomes an intrinsic part of our identities. And certainly you can do worse than "princess," which conveys being beloved, beautiful, and special. But there are other fun, unique options for nicknames out there. So, if you're brainstorming what to call your daughter, here are 20 nicknames for daughters other than "princess."
No matter what you choose, any nickname for your daughter is sure to remind you of the best parts of her personality. She'll know she's cherished and adored, and you'll have a sweet pet name to call her (and eventually annoy her with) throughout her life.
Study referenced:
Coyne, S. M., Linder, J. R., Booth M., Keenan-Kroff, S., Shawcroft, J. E., and Yang, C. (2021). Princess Power: Longitudinal Associations Between Engagement With Princess Culture in Preschool and Gender Stereotypical Behavior, Body Esteem, and Hegemonic Masculinity in Early Adolescence. Journal of Child Development, 92(6), 2413-2430. https://doi.org/10.1111/cdev.13633
This article was originally published on