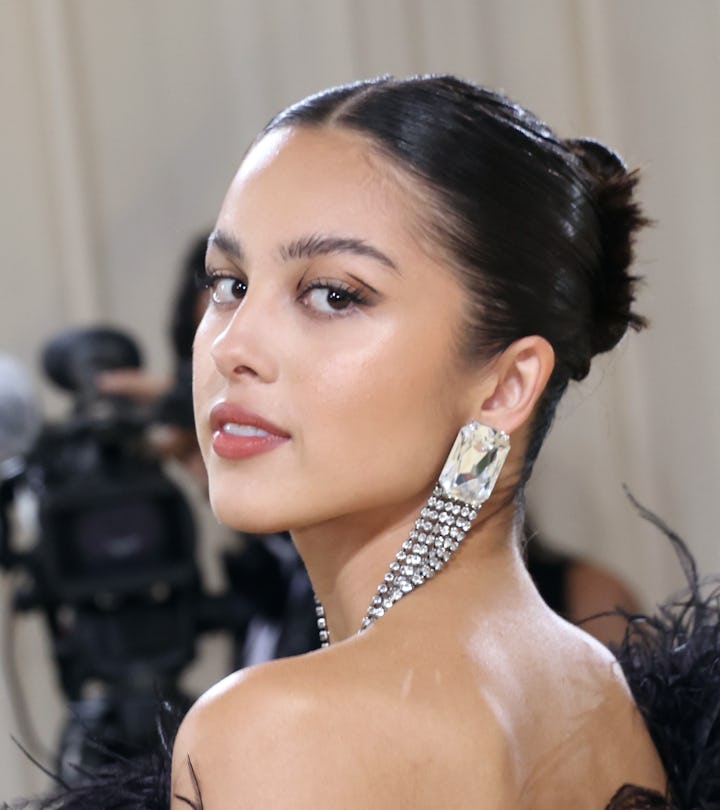 Taylor Hill/WireImage/Getty Images
9 Halloween Costumes To Channel Your Inner Olivia Rodrigo
Come on, you know you've been singing into your hairbrush.
If your child has started to ask when they can get their driver's license, chances are they're a fan of singer and songwriter, Olivia Rodrigo. Honestly, you may be a fan too; the 18-year-old is super talented, and her ballads are catchy and oh-so relatable. And because of her iconic style that's '90s-inspired with a slightly grunge edge, it's a safe bet that Olivia Rodrigo costumes are going to be everywhere this Halloween.
Rodrigo, who got her start on the Disney channel, released her debut album, Sour, earlier this year, and her songs have been steadily holding spots in the top 10 of the Billboard top 100 chart. In addition to her angelic voice, she's known for serving major looks in her music videos, at her red carpet appearances, and on her personal Instagram page. And as you'd probably guess, her amazing clothes tend to be one-of-a-kind or custom designer pieces (she also incorporates a ton of vintage and second-hand looks). But that doesn't mean you can't recreate Rodrigo's looks for yourself.
Whether your child wants to channel the star this Halloween, or you and a group of friends feel like dressing like a gaggle of different versions of Olivia, we have costume ideas so you can look just like the singer, no designer pieces necessary.
We only include products that have been independently selected by Romper's editorial team. However, we may receive a portion of sales if you purchase a product through a link in this article.
1. Olivia Rodrigo in the Driver's License Video
Fortunately, it's pretty easy to recreate Rodrigo's look in her hit song, Driver's License, which debuted in January at No.1 on the Billboard Hot 100 chart (and became the longest running No.1 hit on the global chart, per Forbes). All you'll need to pull off this costume is a pair of looser black jeans ("mom jeans", if you will), plus a smocked shirt in a sage green and a pair of chunky white sneakers. If you or your kid holds a pretend driver's license, they'll be no mistaking who you're dressed up as. If Halloween is chilly where you are, you could layer a long-sleeved shirt under the top, or even opt for an Olivia-approved jacket (like the Sour Letterman Bomber).
2. Olivia Rodrigo at the White House
Olivia Rodrigo visited the White House in style to encourage young people to get vaccinated (thanks Olivia!) She wore a vintage Chanel tweed suit, black socks, and towering Giuseppe Zanotti platform shoes. You don't need designer pieces to pull off this iconic costume, however, you just need to know where to get the dupes. You can find a pink plaid suit for kids at Walmart and some awesome retro-inspired chunky heels made by Jeffrey Cambell at Nordstrom (the designer also offers a similar Mary Jane style with a higher heel, also in a patent white). You'll look ready for your Halloween White House debut in no time.
3. Olivia Rodrigo in the Deja Vu Music Video
Deja Vu is the second single off the singer's debut album, Sour. The music video begins with her looking very retro with a headscarf, vintage sunglasses, layered necklaces, and a simple white tank. This is a costume you can pull together at the last minute, and really any scarf will do.
If you're really trying to get the most authentic Olivia Halloween costume, you could get a steering wheel as a prop (and maybe pose for a pic in a convertible if you're lucky enough to have a friend with one). Add a pouty face and you'll be serving up Olivia vibes all night.
4. Olivia Rodrigo on the Cover of Sour
The album cover for Sour is instantly recognizable, plus all you'll need to recreate this Rodrigo look is a bunch of bright stickers, a fuzzy tank, layered necklaces (plus plenty of rings), and maybe a pop of plaid on the bottom.
Etsy is the spot to get stickers that really look like the ones the 18-year-old singer wears on the cover of Sour.
The layered silver necklaces and stacked rings, along with the apathetic expression, slightly chipped black nail polish, and Rodrigo's signature long wavy hair will help bring this look to life.
5. Olivia Rodrigo at the BRIT Awards
The 18-year-old singer channeled her inner prom queen at the BRIT awards wearing a neon green Dior dress with an edgy black belt and chunky platform shoes. A custom designer dress is probably out of the question, but you or your littlest Rodrigo fan can replicate this bright and fun look with the help of a green midi-length tutu skirt and a matching tube top, plus plenty of delicate silver rings, a thin waist-defining belt, and heels (or black flats if that's more realistic for your night).
If you can't find the exact shade of neon lime green (it's a pretty unique color), a yellow tulle skirt will also work well.
6. Olivia Rodrigo at her Sour Prom Party
Rodrigo debuted her Sour Prom concert film via livestream on June 29, and to celebrate, she had a prom-themed party with some friends. As documented on Instagram, Rodrigo wore a vintage Betsey Johnson slip dress and glittery teal platform heels. Don't forget the corsage and the memorable pigtails when trying this look.
There's actually quite a bit of vintage Betsey Johnson from the '90s available on Etsy, but if you're not looking for a designer piece, there are plenty of silky pink floral dresses out there that won't break the bank (and that you may love enough to wear again).
7. Olivia Rodrigo in the good 4 u music video
In the music video for her song, good 4 u, Rodrigo donned a classic cheerleader uniform with some unexpected details like black opera gloves, and cute '90s inspired hair clips. Fans of the star will know exactly who you or your kid is dressed in this look.
The good news is that you can find cheerleader costumes at most party stores. You can also DIY this costume if you have a pleated mini by taping some stripes to a solid tank and adding inexpensive pom-poms to give it a rah-rah vibe. If you're posing for a Halloween pic in your Olivia Rodrigo costume, be sure to include the big trophy in the foreground.
8. Olivia Rodrigo At The Met Gala
Olivia turned heads at the Met Gala in a lace bodysuit with feathered details, and while this costume is probably best for adults, it'll be sure to have a major wow factor. The lacey black suit that she wore to the Vogue event was made by St. Laurent, but with some creative details you can bring this look to your closet.
You'll need a lace suit (if you can find one) plus some high-waisted black undergarments, and of course, a feathery touch at the shoulders. You could also just take some inspo from her jumpsuit and recreate it with the help of some killer black jeans.
9. Olivia Rodrigo In 'Brutal' Music Video
Rodrigo's grunge pop song, Brutal, is filled with angst-ridden lyrics about the perils of being a teen, but it's also chock full of amazing outfits. The video, which is old through the lens of '80s and '90s video games, starts with her in a minty green ballet outfit, and she quickly changes into a structured tutu dress (shown above) with fishnet sleeves attached (her pink tulle dress is once again vintage Betsey Johnson).
It's fun to grunge up a classically delicate ballet outfit with some '90s details like fishnets. But if that's not your vibe, there are plenty of cool outfits to choose from within in the video, including a plaid two-piece skirt and top set, or a pair of silver bell bottoms and a matching zipped up vest.
This article was originally published on