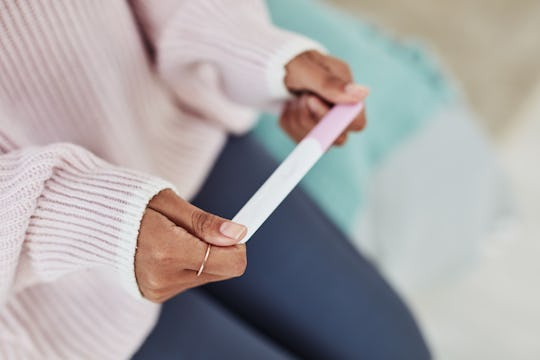 LumiNola/E+/Getty Images
22 Ovulation Test Photos To Help You Read Your Own Results
Dark lines, faint lines, happy faces — these tests can be very confusing.
Back in middle school sex ed, teachers practically made it seem like you could get pregnant by mistake just by thinking about sex. Obviously, now we all know that there's actually only a small window of time each month when we can get pregnant, which is during ovulation. For someone who is actively trying to conceive, at-home ovulation tests can be really useful in pinning down exactly when that window is for them. The problem is, these tests can be really confusing to read, so it helps to have some ovulation test photos to use for comparison.
How do at-home ovulation tests work?
Similar to pregnancy tests, ovulation tests work by measuring hormone levels in a urine sample. While pregnancy tests measure hCG (human chorionic gonadotropin) levels in urine, ovulation tests react to different levels of LH (luteinizing hormone), which signals ovulation. "This is a hormone secreted by the pituitary gland," reproductive endocrinologist Lora Shahine, MD, FACOG, tells Romper in an email, "[and] signals the release of a mature egg from a follicle within the ovary." Once the egg has been released from the ovary, it travels to the fallopian tube, which is where it can be fertilized by a sperm.
There are a variety of different types of ovulation tests, including sticks, strips, and even touch screen tests that report results to an app, so how results are delivered varies. However, no matter what type of test it is, it will be measuring LH levels to help determine whether or not you're within your peak ovulation window.
Still, it's worth giving at-home ovulation tests a shot, because there are plenty of quality options out there that can be useful. If you've been using these tests for six months to a year and you still have not conceived, Shahine recommends being evaluated a reproductive endocrinologist who can "help plan what's best for your personal situation."
Are at-home ovulation tests reliable?
While the concept of at-home ovulation tests is fantastic, especially for people who are struggling to conceive, Shahine says, "the tests are not perfect and can often lead to frustration." She explains that someone with a regular cycle and no other reproductive concerns can typically rely on at-home ovulation tests to indicate the best time to try to conceive, but even then, it depends a lot on how sensitive the test is to LH levels.
Shahine notes that ovulation tests with lower sensitivity can result in a false negative. "That does not necessarily mean someone didn't ovulate," she says, "it can be that the tests aren't working or the LH hormone didn't get high enough to read positive on the kit." Similarly, people diagnosed with PCOS (polycystic ovarian syndrome) will often get false positives because they have higher LH levels throughout their cycle, whether they're ovulating or not.
When to take an at-home ovulation test?
Since ovulation can be so tricky to pin down, expect to take a few tests per cycle. "It's recommended to start testing before you expect ovulation," says Shahine, "it's the change in negative tests to a positive one that can best [signal] ovulation." For someone with a regular 28-day cycle, Shahine suggests testing around day 9 or 10 (days after the first day of your most recent period) and expect to ovulate around day 14.
If you're not sure what your cycle is like, she recommends starting to test the day after your period ends and continuing each day until you get a positive result. "Once you get a positive test, you do not need to keep testing," she says, "the hormone can be present and peak and drop for a few days around ovulation" which can be confusing and lead to frustration.
So, how do you know if you have a positive result? Every test is different, so there's no one-size-fits-all answer, but to help you out here are some positive ovulation test photos to use for comparison.
As you can see from these ovulation test photos, reading results can be somewhat difficult. If you're struggling with trying to conceive and ovulation tests don't seem to be helping, it's worth a visit to your ObGyn or a fertility specialist to come up with a plan that works better for you.
Expert:
Lora Shahine, MD, FACOG, women's health and fertility physician at Pacific NW Fertility and Clinical Associate Professor at the University of Washington