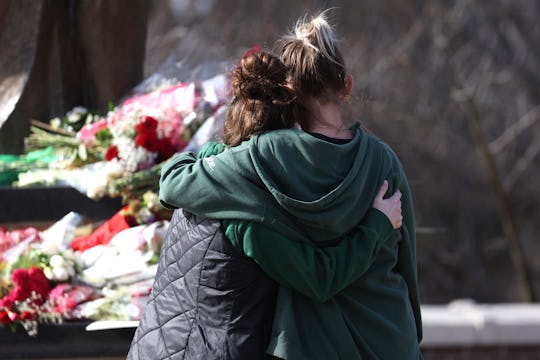 Scott Olson/Getty Images News/Getty Images
Parents & Gun Violence Survivors Speak Out In Wake Of MSU Mass Shooting
"It's sickening that this is the norm."
On Monday night, a lone gunman with no ties to the school walked onto the campus of Michigan State University and opened fire. Three students were killed, five more were left injured, while the gunman was found dead off campus from what appeared to be a self-inflicted gunshot wound, according to local police. This attack happened on Feb. 13, the day before the survivors of the mass shooting at Marjory Stoneman Douglas High School were preparing to mark five years since the massacre took the lives of 17 people. A macabre milestone that was not lost on people who were reeling from the shock of yet another school shooting. Least of all the parents who have been through it before and the students at MSU, some of whom found themselves living through their second school shooting in their short lives.
Michigan Gov. Gretchen Whitmer spoke at a press conference on Tuesday morning, hours after the shooting. "We're all broken by an all too familiar feeling," Whitmer said. "Another place that is supposed to be about community and togetherness shattered by bullets and blood shed."
Whitmer was not the only politician speaking out about yet another horrific mass shooting. President Joe Biden released a statement on Tuesday, saying in part, "Our hearts are with these young victims and their families, the broader East Lansing and Lansing communities, and all Americans across the country grieving as the result of gun violence." Biden also acknowledged the fact that it had been five years since a mass shooting at Marjory Stoneman Douglas High School in Parkland, Florida.
As did Fred Guttenberg, father of 14-year-old Parkland shooting victim Jaime Guttenberg, who tweeted, "As I sit here crying for my family & our loss of Jaime 5 years ago in Parkland, I'm watching the press conference in Michigan where treating physician is crying. Gun violence breaks families & breaks communities. BEFORE IT IS YOUR LOVED ONE, DEMAND WE FIX THIS ONCE & FOR ALL."
Jaime's mom Jennifer Guttenberg also spoke out about the MSU shooting on Twitter, "Please stop calling the 5 year mark since my daughter lost her life in the Parkland school shooting an 'anniversary.' There is nothing to celebrate. Now Michigan State is added to the list. My heart goes out to them. It's sickening that this is the norm."
Sadly, the mass shooting at MSU was not the first for some students. Michigan Rep. Elissa Slotkin noted in a press conference that survivors of the November 2021 Oxford High School shooting, which left four students dead, were students at MSU. "I cannot believe I am here again doing this 15 months later," she said, per TIME. Several students were seen wearing "Oxford Strong" sweatshirts, and three young women from Rochester opened up about what it felt like living through two school shootings.
There was also at least one student at MSU who had lived through the horrific Sandy Hook massacre in 2012 that left 28 dead. "I am 21 years old, and this is now the second mass shooting that I've lived through," she said in a video shot across the street from MSU. "Ten years and two months ago, I survived the Sandy Hook shooting." She remembers crouching in a classroom for so long that she had a PTSD fracture in her right lower back.
As conversation continues around the issue of school shootings and gun safety, let's never forget that some students are now living through their second attacks. That these shootings force victims' families to relive their trauma, their loss. That students need, at the bare minimum, to have a safe space to learn.