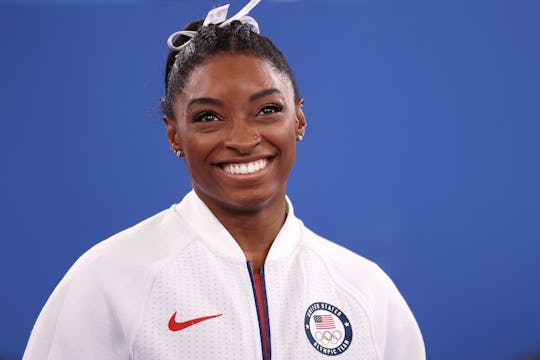 Laurence Griffiths/Getty Images Sport/Getty Images
10 Sweet Photos Of Simone Biles With Her Parents & Siblings
From the Olympics to Super Bowl tailgate parties, Simone Biles' family is close-knit and cherishes each moment together.
Family is everything to Simone Biles. And there's no doubt she is leaning on them now for extra love and support. The Olympic gold medalist pulled out of the gymnastics finals after feeling like she was not in the right "headspace" to compete safely. Her decision to prioritize her well-being and mental health is being applauded by many, including former First Lady Michelle Obama, TODAY's Hoda Kotb, and, of course, her family.
Biles is the daughter of Nellie and Ronald Biles, who are actually her adoptive parents and biological grandparents. Over the years, the Olympian has been very transparent about her upbringing and parents. Nellie and Ronald adopted Biles, as well as her sister Adria, in 2003 when she was 6 years old. Biles also has an older sister named Ashley and two older brothers, Ron and Adam. Before she was adopted, Biles would visit her grandparents all the time.
"Growing up, my biological mom was suffering from drug and alcohol abuse and she was in and out of jail," Biles said in an interview with Women's Health. "I never had a mom to run to. I do remember always being hungry and afraid. At 3 years old, I was placed in foster care."
"My parents saved me," she added. "They've set huge examples of how to treat other people, and they've been there to support me since day one. There's nothing I could say to them to thank them enough."
Biles has a relationship with her biological mother, Shanon Biles, who has been sober since 2007. In 2016, Shanon told the Daily Mail she speaks with her daughter. "When I talk to Simone, it's a brief conversation, like, 'I miss you, I love you, I can't wait to see you, I'm proud of you, I'm watching. You go girl,'" she told the publication.
Throughout her life, Biles has faced many tough moments, but the 24-year-old's family has always been in her corner. "The Olympics is no joke! BUT I'm happy my family was able to be with me virtually," Biles wrote on Instagram before she withdrew from competing in Tokyo, "they mean the world to me!"