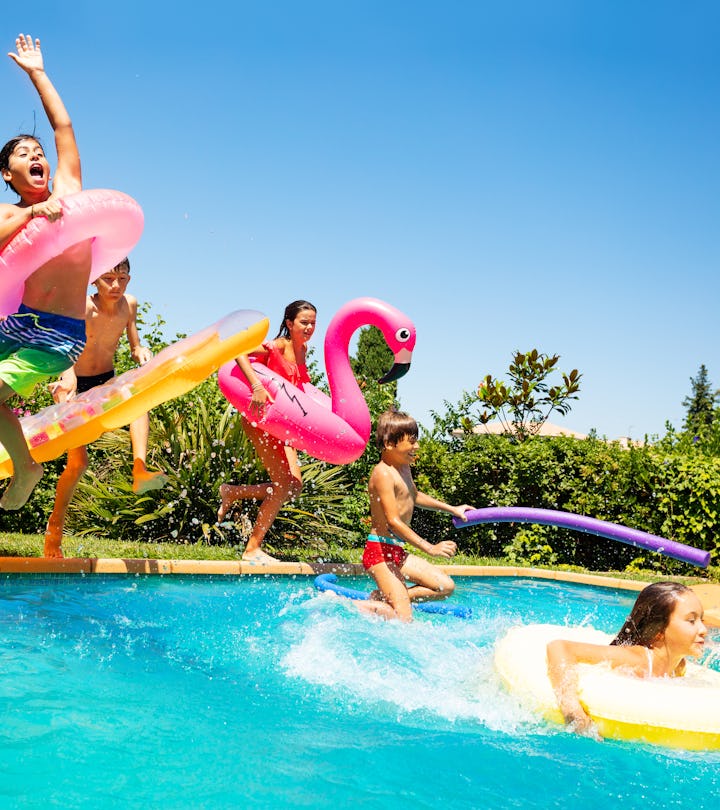 Shutterstock
7 Safety Products Every Pool Owner Should Know About
Keep that summertime fun chill and accident-free.
It kind of feels like we just shed our winter coats, so I can hardly believe it's pool time once again. But get that unicorn floaty out of the garage, because temps are rising, and your kiddos are going to be super psyched to start cannonballing.
If you're lucky enough to own your own pool, well, that's totally awesome and I only sort of want to shoot laser beams of jealousy right at your face. But my white hot envy aside, it's a big responsibility to own a pool, and having pool safety products in your home and patio will keep everyone safe.
I hate to segue from unicorn floaties to grim statistics, but if you're a pool owner, it's important to know the facts. According to the Centers for Disease Control & Prevention (CDC): "Every day, about 10 people die from unintentional drowning. Of these, two are children aged 14 or younger. Drowning ranks fifth among the leading causes of unintentional injury death in the United States."
It is absolutely vital people keep their pools safe for their own children, as well as for any kids who might wander over. But an important side note: While the products listed here are great for helping to keep things secure, there is absolutely no substitute for adult supervision, and children should never be left unattended when swimming.
Another thing to consider: It isn't just drowning that can be a concern. There's also the risk of sun exposure, swimmer's ear, and slippery surfaces. So with that in mind, below are some pool products to help keep summertime as it should be: easy, breezy, and free of injury!
We only include products that have been independently selected by Romper's editorial team. However, we may receive a portion of sales if you purchase a product through a link in this article.