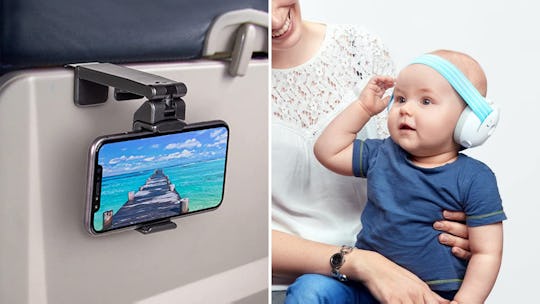 These 18 Things Make Flying With Kids Way Easier
Help kids get comfy — and stay that way — on your next flight.
Of all the tips for flying with kids out there, the one I've personally found the most success with is to keep your kids as comfortable as possible. Between the unfamiliar sensations of being in flight and staying confined to their seat, having a few things on hand to make flying with kids easier means keeping their comfort in mind. If you want your kids to reap the benefits of travel, but also don't want to lose your sanity along the way, these these products that can make airplane travel easier with kids should be at the top of your packing list.
Some of the best products to make airplane trips easier with kids are ones made specifically for that purpose. Weird — but genius — products like an inflatable foot rest that your toddler can sleep on and disposable toilet seat covers (that actually cover the entire toilet seat) are the products that will save your sanity on long-haul flights and shorter trips alike. From headphones attached to a fuzzy headband that won't slip off their ears to a weighted lap blanket that can help calm their nerves, you won't want to board another flight with kids without these products in your carry-on.
We at Romper only include products that have been independently selected by our editors. We may receive a portion of sales if you purchase a product through a link in this article.
Flying with kids can be an adventure. When you want to make the most of your journey, having a few of these travel products on hand can make your flight with kids as easy and comfortable as possible.