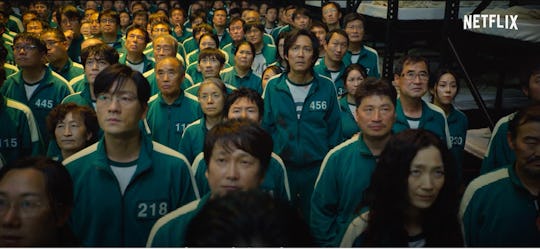 YouTube
These 'Squid Game' Halloween Costumes Are Just Creepy Enough
You'll never look at the Red Light, Green Light game the same way ever again.
Every year, there's a new trend in Halloween costumes. In 2020, there was everything from Harley Quinn and Fortnite to PJ Masks and Poppy from Trolls to frontline workers. And now, just in time for this All Hallow's Eve, there's the onslaught of Squid Game Halloween costumes. If you're one of the few people who haven't watched the Netflix series, well, you'd better red light, green light it to get your costume in time.
Since its release a little less than a month ago, Squid Game has managed to claim the title of Netflix's biggest-ever series at launch, according to CNN. And if you've watched any of the nine episodes, you'll probably understand why. The fictional drama from South Korea follows the lives of several down-and-out (and deeply in debt) people who are approached to play children's games for money. Sounds simple enough, right? Well, the clincher is that if you're eliminated from any of the games, you're eliminated… permanently. It makes games like Tug of War and the titular game even more high stakes, since the last player standing (literally) can win a $38 million cash prize.
But what has captivated viewers is how children's games can become so completely creepy, and did we mention the gore content? So if you want to honor your newfound Netflix obsession, these Squid Game Halloween costumes will definitely give you the creeps.
We only include products that have been independently selected by Romper's editorial team. However, we may receive a portion of sales if you purchase a product through a link in this article.
Visually, Squid Game is scary and anxiety-evoking, to say the least. And while it's not a horror series, it definitely keeps you on the edge of your seat as you watch players participate in innocent childhood games that have now taken on a horrifying aspect to them. But with over 111 million views so far, we're betting on a Season 2 — and the fact that you'll never look at Red Light, Green Light the same way ever again.