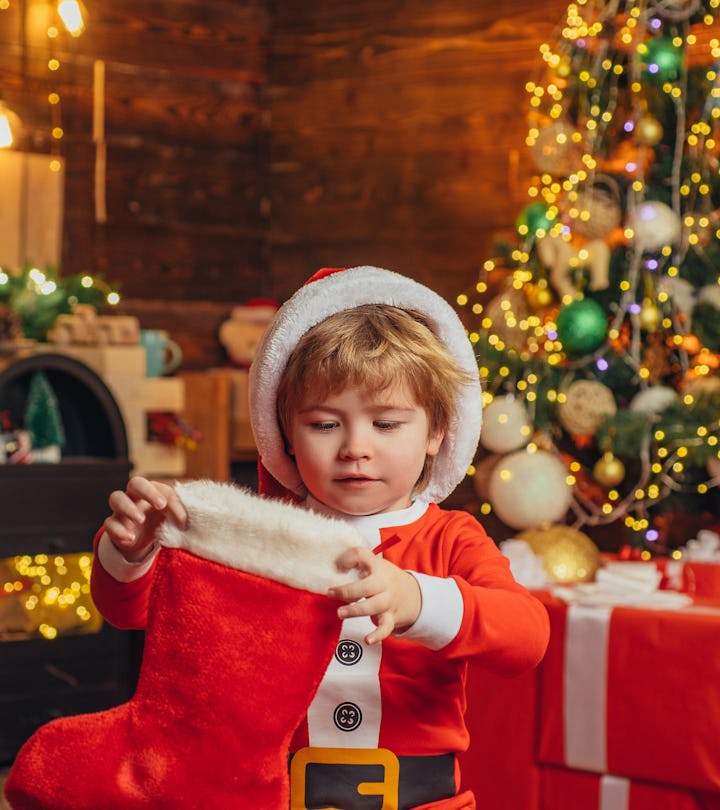 Shutterstock
21 Stocking Stuffers For Kids Under $10 That They'll Love
Remember: You don't have to spend a lot to please them!
When you're doing your best to make Christmas morning as magical as possible, it's easy to overthink the little things, like stocking stuffers for your kids. But it's also unnecessary to panic about shopping for stocking stuffers: the small gifts that fit perfectly inside an adorable Christmas stocking are meant to be little treats, not something incredibly extravagant! Stocking stuffers are your chance to spend less and still make your kids happy. They're just thrilled to go through those things and pick out all of the gifts inside! And luckily, there are plenty of stocking stuffers for kids under $10 that will make them thrilled without breaking the bank on your end.
Whether you're sticking a few small toys in a stocking for your baby or picking out items for your slightly older kid, we've done the work for you and have found some really great stocking stuffer options. They all come in at under $10, and they're all fun, functional, and versatile. You can mix and match a few different ones, or buy one or two of these and then fill the rest of the stocking with candy and snacks (kids love that kind of thing). Whatever you choose, just know you're doing a great job at playing Santa Claus. Check out the below inexpensive options and start shopping.
We only include products that have been independently selected by Romper's editorial team. However, we may receive a portion of sales if you purchase a product through a link in this article.
Choose a few of these stocking stuffers and you're sure to make your kids smile on Christmas morning... even before they get to their more elaborate gifts. And you might just get a few moments of peace thanks to them, so who can argue with that?