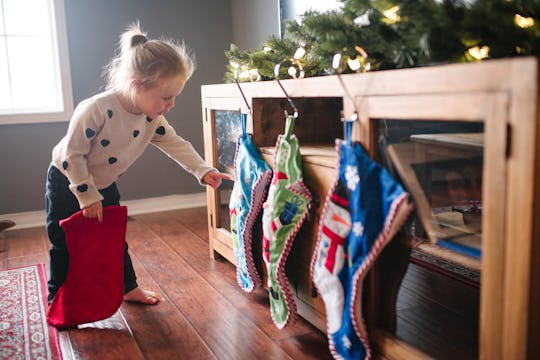 Viara Mileva/Image Source/Getty Images
Toddlers Will Love These Adorable Stocking Stuffers
Good things come in small packages.
Here's the funny thing about Christmas: The big Santa gifts might cause a splash, but often kids become consumed by their stocking stuffer presents. Those tiny bits and bobs packing the stocking that they discover first on Christmas morning can be the ultimate hit. They might not cost nearly as much as the showstopper present, but fill a stocking well and these gifts will entertain kids for days. That's especially true for the littlest children in your household. Stocking stuffers for toddlers are so fun to select, especially when you really consider what sparks their interest and imagination.
First, consider where your toddler is developmentally. Perhaps they've just started walking so they're technically a toddler but with many baby instincts, like boo-hooing over incoming teeth. For these little ones, a fun teether might make a great stocking stuffer. But if your toddler is further along and nearing kid-dom, then you need to rethink your stocking stuffer items. A sweet dolly or handful of board books make great stockings stuffers for toddlers. Anything interactive will be appreciated as these excited kids tear through wrapping paper and enjoy the thrill of taking part in the magic of the big holiday.
We only include products that have been independently selected by Romper's editorial team. However, we may receive a portion of sales if you purchase a product through a link in this article.
Ready to stuff some stockings for the little toddlers in your life? Start adding to your cart now.
This article was originally published on