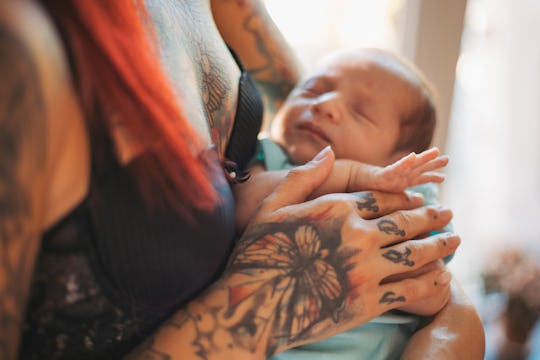 Credit: Milorad Kravic, Getty Images
11 Tattoos For Moms Who Aren't Afraid To Show Some Ink-Covered Skin
Getting inked can be a beautiful way to celebrate your role as a mom.
From the moment you become a mom, everything changes... obviously. So it makes sense that you might want to mark the moment with something pretty — and permanent. That's why your skin is the perfect palette to showcase artwork that is meaningful to you, whether it's your newborn baby's footprints, a line from a poem, or a symbol that has some sort of significance to you. If you're looking for ideas for tattoos for moms, you'll soon find that there's inspiration everywhere, and that they're also utterly addicting.
Whether it's getting one for self-expression, to pay tribute to a family member, or just in the name of spontaneity, tattoos are becoming less and less taboo. And you don't have to avoid getting inked once you have kids, as there are plenty of gorgeous tattoos for moms. Whether you want to honor your little ones or simply ink a powerful mantra on your skin, there are plenty of tats to choose from.
When it comes to timing your tattoo appointment, the good news is that you don't really have to wait. Even if you're breastfeeding your baby, you can still get inked, according to Dr. Kim Langdon, M.D., an OB/GYN in Ohio. "Even if the ink gets into the mother's bloodstream, it will be removed by the kidneys, the liver, or the GI tract before it could get concentrated in the milk supply," she says. "Besides, it probably can't cross the milk ducts and blood vessels — rather, it would stay in the blood stream until it was removed by the body's defense mechanisms." That said, La Leche League (LLL) reports that it's best to wait between 9-12 months after your baby's birth to get a tattoo — which gives you plenty of time to toy with what tat you'll get.
Tattoos can be a beautiful reminder of the things we love, and, as moms, we have plenty of love to spare. So if you're in need of a little inspiration, here are 11 tattoo ideas that would be perfect for any mom eager to get inked.
Experts:
Dr. Kim Langdon, M.D., an OB/GYN in Ohio
This article was originally published on