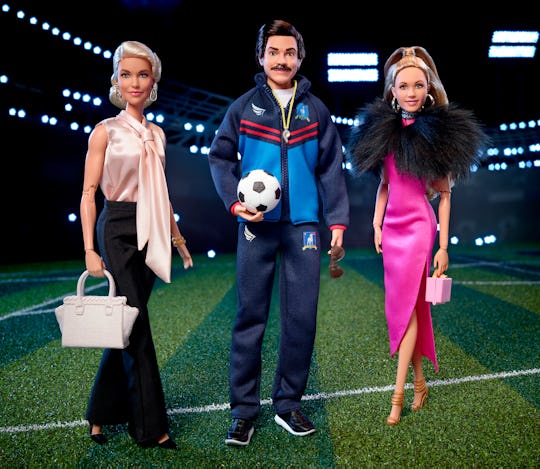 Mattel
Hey Fellas, These Ted Lasso Characters Are Officially Barbie Dolls
Is anyone more of a Ken than Ted Lasso?
If you've been missing Ted Lasso since the Apple TV+ series ended in May, there's a rather fun solution to that problem. Mattel and Warner Bros. have partnered up to create some amazing Barbies for kids but also presumably adults. And while you can't get the entire AFC Richmond team in Barbie form, at least there will be Barbies of three of your favorites.
Mattel and Warner Bros. have collaborated to unveil the Ted Lasso x Barbie Collection featuring three of the series' main characters. Naturally they have the title character of Ted Lasso (played by Jason Sudeikis), complete with his trademark mustache and signature blue AFC Richmond tracksuit, as well as a whistle around his neck and a pair of aviator sunglasses for those extra bright days on the football pitch. He also carries a soccer ball under his arm, although technically it's a football since he's a coach in England.
Ted is available online for $50, and if we know our favorite coach at all, we feel pretty certain he would be buying one for his own collection. Or the AFC Richmond players would buy him one and he would say "aw shucks" and secretly be delighted. Also, is there any character who is more of a Ken than Ted Lasso?
There's also the elegant owner of AFC Richmond, Rebecca Welton (played by Hannah Waddingham), who already sort of looks like a stereotypical Barbie so it wasn't much of a stretch. Rebecca's Barbie, also available online for $50, is all business in black slacks and champagne-colored top, black stilettos, and some statement jewelry. Her hair is pulled back in a very Rebecca-like updo, and she looks like she's ready to take on whatever problems might crop up with her football team, or her dastardly ex-husband Rupert. She's basically tailor-made to be Boss Barbie.
Finally, public relations wiz and Rebecca Welton's bestie Keeley Jones (Juno Temple) gets to be a glamorous Barbie, also available for $50 online. Decked out in a black faux fur stole, a pink satin dress, and golden heels, Keeley's Barbie is ready for a night on the town with her trademark high ponytail firmly in place.
Her on-again, off-again boyfriend Roy Kent (Brett Goldstein) would certainly give her a growl of approval, but he wasn't made into a Barbie so I guess that's not going to happen.
If Ted Lasso has indeed come to an end after three seasons, these Barbies are our consolation prizes. And we'll take them with Lasso-approved grace and appreciation.