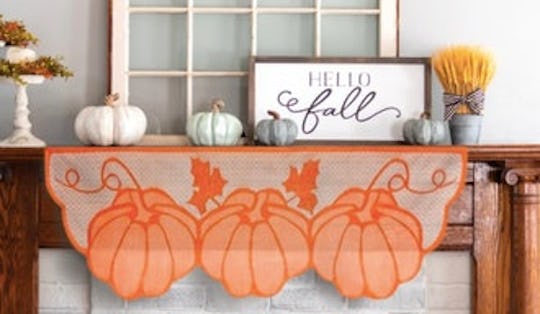 Etsy
These Are The Cutest Thanksgiving Decorations To Buy Or DIY
With a chill in the air and the sight of leaves floating off of trees, the urge to decorate can become strong. Well, break out the gourds, my friend, the time to hesitate has passed. It's Thanksgiving decorating season.
And just think, there are so many areas to decorate! From the front door to the Thanksgiving table, your mantel to really any space in between, provided its on your property, you can decorate it. The first instinct when it comes to Thanksgiving decorations is to think harvest chic; that is, dried flowers, gourds, gem corn, and mums. But that's just the start. You can go DIY with your clever home accessorizing too. What about a banner made up of felt slices of pumpkin pie? Or a fabric painted pumpkin? Modge podge a turkey, why not?
The mantel, which sits above the hearth, has long been the center and symbol of the heart of the home. So naturally, you'll want to adorn it with some Thanksgiving finery. This is a great spot to display a garland of flowers, an array of pumpkins, or a leaf motif. But don't forget the front yard. You can welcome guests with signs or lawn stakes that signify the season.
Get started coming up with your Thanksgiving 2021 look with these inspo products and ideas here.
In the spirit now? Grab your garlands, glue gun, and Thanksgiving gear and get decorating.