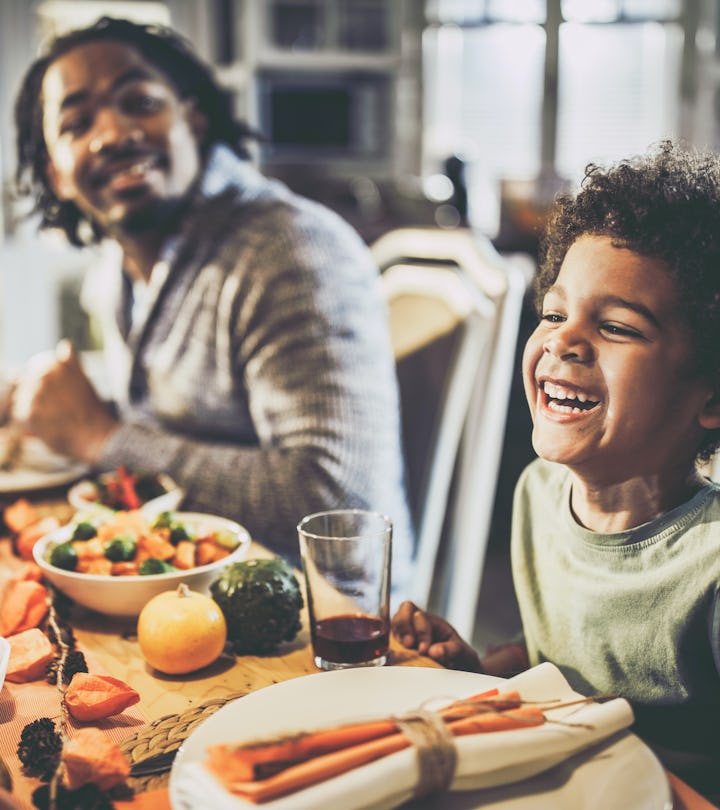 skynesher/E+/Getty Images
Your Kids Will Love These Thanksgiving Poems & Songs
For all those fun crafts, or for a tradition to participate in on Thanksgiving Day, this list of poems has got you covered.
Making lists of things I was thankful for, donning pilgrim hats and homemade belt buckles, reciting poems, and singing turkey songs while making handprint turkeys were some of my favorite memories from elementary school. Now I know that it's not the most enlightened activity to do in school — especially the dressing up part — but the songs and Thanksgiving poems about being thankful, eating delicious food, celebrating family, and of course, turkeys, can be a fun thing to participate in as a kid.
Whether you're looking for ways to celebrate at home leading up to the big day, or you're planning on a special presentation by the kids during Thanksgiving dinner, there are definitely some Thanksgiving Day poems for kids that will be fun for them, and a perfect video and photo moment for parents. From old favorites like Johnny Appleseed to celebrate the harvest and what we're thankful for, to absolute classics like To Grandmother's House We Go, Thanksgiving songs and poems can liven up even the most awkward family Thanksgiving dinners. I mean, who doesn't love it when kids sing sweetly and try to entertain the masses? Monsters, that's who.
Practice these poems and songs leading up to the big day with your kids to really get into the Thanksgiving Day spirit while making your turkey handprints or prepping a Thanksgiving meal for the family to enjoy together — your family will gobble up the cuteness.