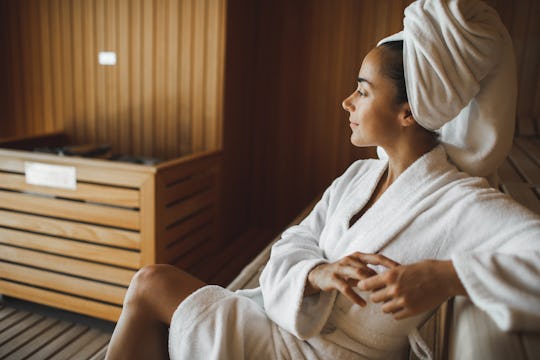 Anastasiia Krivenok/Moment/Getty Images
9 Things To Know About The Spa Treatment Called Vaginal Steaming Or Smoking
No, it has nothing to do with cigarette smoke.
You ever get misconceptions about things? I do all the time. And when I first heard the term "vaginal smoking," I assumed it was some type of vaping trend. Sounds legit, right? It turns out vaginal smoking is a tradition from the island of Java that involves a seatless chair, herbs, smoke, and (of course) your vagina.
"The practice is most common in Indonesia and Malaysia," Dr. Monica Grover, M.S., head gynecologist at VSPOT, tells Romper. "It is starting to become available in the west; however, it is still something that people raise an eyebrow to when they hear 'vaginal smoking.'" It's a pretty common spa treatment specifically in Bali, but now more Westerners are becoming hip to this practice, where it is sometimes called a Venus smoke.
The basics: You sit in a chair without a seat, and scented herbs are burned underneath your privates. Although the health benefits have yet to be studied in great detail, many spas provide the service as a way to cleanse, relax, and even scent a vagina. Massages are often part of the package as well. In many ways, it's just another selection on a spa menu. "Vaginal smoking is a traditional Japanese treatment that involves an herbal blend called ratus, steam, and smoke from coal," explains Grover. "Traditionally, ratus is made from piper betel leaves, cinnamon, gloves, and vetiver. These are boiled over a grill with coals to create steam and smoke that is thought to be absorbed by the vulvar skin to enter the vaginal tissue and bloodstream."
If you're curious, there may be a spa near you that offers vaginal smoking, or even its offshoot, vaginal steaming. There's even a way to DIY the whole thing, so you can have your very own at-home vaginal smoking station. (There's a birthday present no one will expect.) Who knows? You may never look at a plume of smoke the same way again.
Vaginal smoking certainly isn't for everyone, and it's worth talking to a doctor before trying this treatment out for yourself. But if you love trying every new wellness trend out there, this one might be a worthy addition to the bucket list.
Experts:
Dr. Monica Grover, M.S., head gynecologist at VSPOT
Dr. Mary Jane Minkin, M.D., Clinical professor of OB/GYN at Yale School of Medicine
Cindy Barshop, women's intimate health expert and founder of VSPOT
This article was originally published on