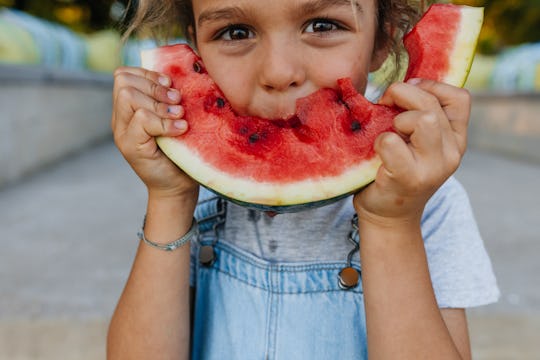 Dimensions/E+/Getty Images
15 Sweet Watermelon Coloring Pages You Can Print For Free
These coloring pages are cool, colorful, and most of all, fun.
On sultry summer days, there's nothing like cutting open a cold watermelon. With its juicy red flesh, black seeds that are sensational for spitting contests, and a green rind for easy holding, it's easily one of the most delish — and healthy — fruits to eat during those dog days of summer. But when you haven't gone food shopping yet, these 15 watermelon coloring pages can help your kiddo with their cravings.
Watermelons truly are the unsung heroes of summer. Perfect as a snack or a dessert, the fruit is a superstar in every way possible — not only does it keep you hydrated, but it has vitamins A and C, too. Plus, the lycopene in watermelon can prevent sun damage, per Health. And when it comes to coloring, they're bright, colorful, and easy to color.
So be sure to stock up on those green, red, white, and black crayons, and help your kid take a big bite out of summer (or any season, really) with these free watermelon coloring pages that'll make you swear you can smell that sweet fruit.
When your kiddo is tired of doodling in the same boring books, you can download some of these delish (and free!) watermelon coloring pages. As they're coloring, you might want to give them a slice of the real deal to make it even more enticing. Engaging in a seed-spitting contest is entirely up to you.