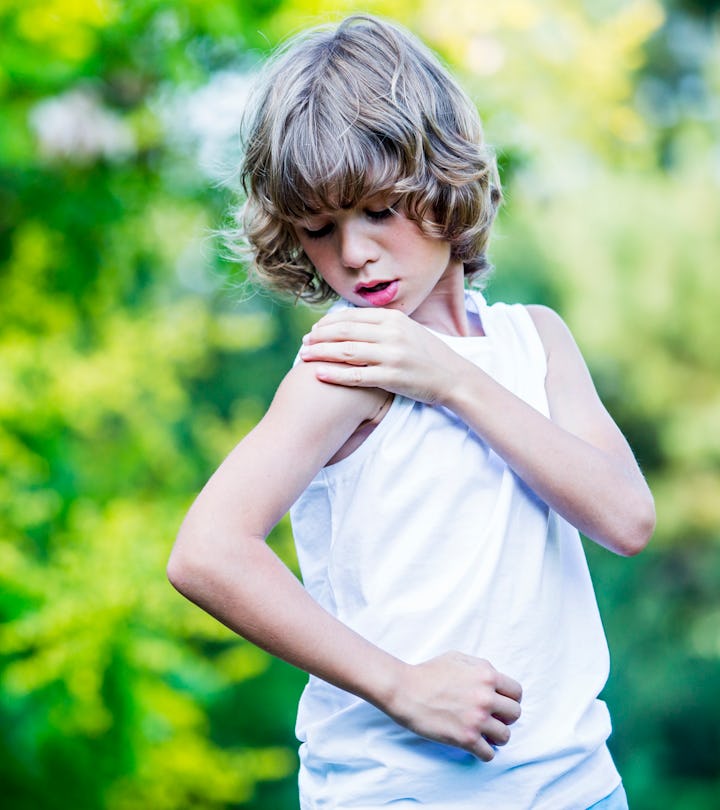 SCIENCE PHOTO LIBRARY/Science Photo Library/Getty Images
5 Reasons Mosquitos Are Biting Your Kid, According To Science
Yes, mosquitoes play favorites.
In most places, summer means warm and humid weather, which means the mosquitoes are sure to be out in full force. At parks, splash pads and at every summer camp in the country, kids are miserably scratching at little red welts on their arms and legs. It seems like some kids are always getting mosquito bites, while others only experience the occasional itch. And in fact, some children do seem to be more prone to mosquito bites than others.
In the mosquito bite world, it's the girls who rule: Females are the only mosquitoes that bite, because they use a protein in human and animal blood to develop their eggs, according to the University of Florida entomology department. As the lady bloodsuckers feed, they release saliva into the skin that causes the familiar allergic reaction of itching and swelling. But mosquitoes are actually picky about the victims they choose; they're attracted to certain sights and smells more than others. Although it's no fun to be a mosquito's choice bite, it can be useful to understand their preferences so that you can act (or dress) accordingly.
Read on to find out why some kids become the Catch of the Day on the mosquito menu — and some kids don't — and what you can do to keep the mosquito bites at bay.
In short, if it feels like your kid is always getting mosquito bites — while their friends remain bite-free — it's possible that is exactly what's happening. While you can't control their blood type, and you don't want to keep them from playing outdoors, there are a few things you can do to reduce their chances of being bitten. Grab the insect repellent, put on your airiest light-colored clothing, and head outside.
Study cited:
Shirai, Y., Funada, H., Seki, T., Morohashi, M., Kamimura, K. (2004). Landing preference of Aedes albopictus (Diptera: Culicidae) on human skin among ABO blood groups, secretors or nonsecretors, and ABH antigens, https://pubmed.ncbi.nlm.nih.gov/15311477/
Experts Interviewed:
Dr. Cherilyn Cecchini, M.D., a board-certified pediatrician
Dr. Karan Lal, a board-certified dermatologist and The Society for Pediatric Dermatology committee chair
This article was originally published on