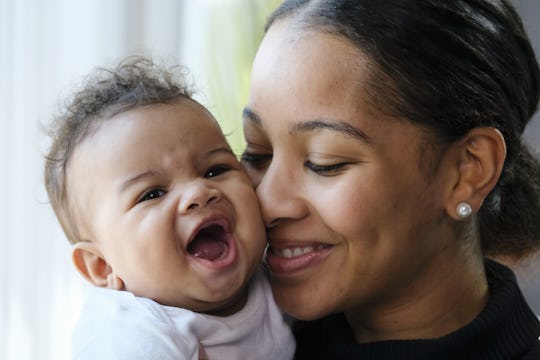 Burlingham/Fotolia
10 Batsh*t Thoughts You'll Have When You Think You Want Another Baby
A thing about me is that I never debated how many kids to have. At every point in my life thus far, I've been completely certain about how many kids I would have. For the longest time, it was none. Parenting wasn't a thing I grew up dreaming of doing, and as I moved into adulthood and saw the landscape of my goals taking shape, becoming a mother wasn't anywhere to be seen. That is, of course, until I had a baby.
I was sure I didn't want to be a parent until I was suddenly just as sure that I did, and then I promptly became one, at which point I became exceedingly sure that I was only going to have one kid. I grew up with a lot of siblings and credit the experience for fundamental parts of who I am, and the prospect of raising just one kid has seemed, since day one, to be well outside the wheelhouse of all parenting strategies I'm familiar with, but still — one kid for me and no more. I was super sure of it.
My son is 5 now, and sure enough, I find myself occasionally entertaining very, purely, totally hypothetical thoughts about the extremely imaginary concept of adding another kid to my family. Would I adopt? Would I give birth to another baby? Is that your baby? Can I hold it? OMG it smells so good.
The point is, hell if I know whether or not the increase in frequency of me feeling (admittedly hormone-driven) interest in having another kid will actually result in me having one. My two preceding "immovable, firm" stances on my procreative outlook have thoroughly dissuaded me from making any firm proclamations about what will or won't happen. At this point, I'm where so many parents find themselves: swinging dramatically between craving another baby and feeling utterly unhinged for even contemplating the idea of having one.
If you've been in this delightfully unstable mental place about kids, you've likely had most of these thoughts at some point: