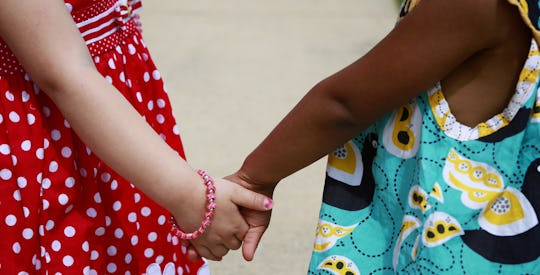 Fotolia
What Being A Foster Parent Is Actually Like
When my partner and I began our adoption journey two years ago, we were terrified of fostering. We were scared of getting too attached and of having to give a child back. They're valid fears, especially if you've struggled to start your own family or don't yet have kids. However, 18 months later, we not only have a daughter who is ours and fully adopted, we've fostered four babies. You might be surprised to learn that fostering was just as big a blessing to our family as adoption. There are things no one tells you about being a foster parent, but I'm more than happy to.
When we took on our first foster baby (with our own infant daughter in the house), my biggest fear was falling in love with her and having to hand her back. That's exactly what happened, in the end, but I wouldn't change a minute of it. She needed our love for the time she was in our home, and we still feel proud of how we did our job as her foster parents; loving her as hard as we could for as long as she was with us. It taught an invaluable lesson about our capacity to love selflessly and without expecting any reward in return.
Is fostering right for every family in every season? Absolutely not. But are most parents much more capable of fostering than they think they are? That's a resounding yes. Fostering may not be for the faint of heart — and having to give a child you've loved as your own back to a family member or parent is certainly a very real and painful possibility — but you certainly don't have to be "supermom" or perfect parents to take it on. I hope the following things help demystify foster parenting and, perhaps, encourage a few of you to take it on (or encourage foster parents you know in their roles).