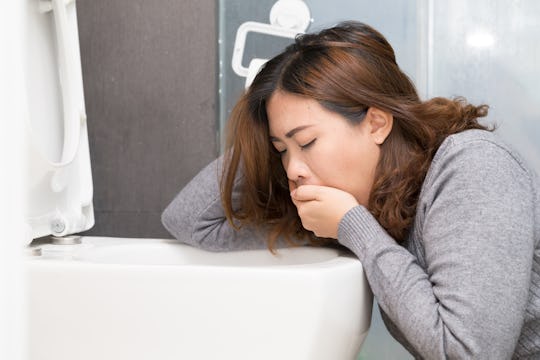 Narong Jongsirikul/Fotolia
10 Disgusting Things I'd Rather Do Than Deal With Goddamn Morning Sickness
In my experience, the first trimester of pregnancy is hell on earth. The primary culprit? Morning sickness, which, despite the name, does not only relegate itself to the morning. Those crazy ass pregnancy hormones make the first three months nothing if not vomitastic, and I am not here for it. Although I would love to have another baby, I can think of way too many disgusting things I'd rather do than deal with morning sickness.
I started puking approximately 2.5 seconds after the second pink line showed up on the at-home pregnancy test. At first I was all, "Oh, cuuuuute! I'm really pregnant." That wore off as soon as I realized the intense nausea wasn't going to. Neither traditional remedies (ginger, mint) nor medical interventions (Vitamin B6, Zofran) gave me anything but the briefest moment of relief. I even ended up in urgent care with dehydration at one point because I couldn't even keep water down. I ate tiny meals throughout the day and still barely managed to make it 24 hours without barfing in the nearest trash can or toilet. The worst part? This so-called "morning sickness" lasted 20 weeks.
As a new mom, I've had to deal with my fair share of gross stuff. But the literal crap I find in my daughter's diaper doesn't hold a candle to morning sickness. Maybe it sounds whiny, but unless you've barfed into a plastic bag while driving and continued to drive whilst clutching said bag, you don't get to say whether any of the following is worse than pregnancy nausea.