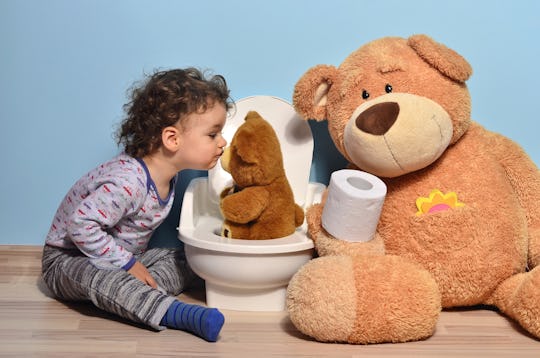 Fotolia
7 Times You Need To Pay Attention To Your Kid's Potty Training Accidents
Any parent with a kid older than two can tell you about the joys of potty training. And by "joys," of course, I mean "horrors." There are bound to be accidents, occasional regressions, and other hiccups as your kid adjusts to this new level of self-awareness and self-regulation, but what happens when things seem to go beyond what might be defined as "normal"? Your kid's potty training accidents may, in fact, be a message worthy of your undivided attention and potential further action, and it's up to you, as their parent, to decipher it.
While I don't have any medical training, I do have a lot of experience on this topic. In fact, I won't lie; this is hard for me to write about, but I feel it's so important to discuss with parents so I'm finally ready, willing and able to talk about it openly. I spent most of the first 10 years of my life dealing with accidents. My parents had no clue what was going on with me, and neither did I. The shame I endured, the overwhelming feeling of being broken, of wondering whether I was being judged or ridiculed, are all something I continue to deal with, decades later. It turned out that I had a bladder disorder that went undiagnosed until I was 10 years old, but eventually I did receive treatment thanks to some rather incredible doctors. Still, it all came at a price.
Fast forward a few decades and here I am, dealing with my own kid's challenges with potty training. We're trying to determine why she's having so many problems, but it's hard. Despite my own experiences, and my promises to myself that I would never react negatively to any problems my own kids had with toilet training, it's still hard. Sometimes, even letting out a big sigh of exasperation after the fourth accident that day, can come across as anger to your kid.
So, if your child is having accidents and you're losing your patience, I implore you to start researching the possibilities. It might be nothing but, if it isn't, it's worth getting to the bottom of the problem sooner rather than later.