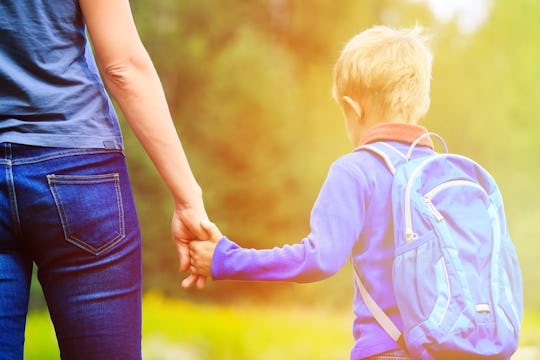 nadezhda1906/Fotolia
10 Emotions Every Mom Feels When Summer "Vacation" Finally Ends
It's finally here, you guys. The day I've been waiting for (and my kids have been dreading) for the past 11 weeks. The first day back at school after summer vacation. I marked the date on the calendar and counted down the days as my family survived two vacations, one funeral, and not one, but two nannies quitting with no notice. So, yeah, I am glad summer vacation is over, but that's not the only feeling I'm experiencing. Turns out, there are more than a few emotions every mom feels when summer vacation finally ends, and I am pretty sure I'm feeling every single one of them.
Now, I am not saying I won't miss my kids while they're at school, because I totally will. But I also know I'm a way better mom when I get a break from constantly hearing, "Mom, he's touching me!" and, "I'm bored," and the fan-favorite, "Can we have screen time?" I went into summer break with the best of intentions, too. I was going to keep my kids engaged in fun and creative learning activities. By the end of summer, though, I was saying, "I don't care what you do, as long as you do it anywhere, but here." At least I tried, right?
But for as excited as I am to get my kids into their school routine, I'm also sad to see my kids leave. And worse, to see them grow up. Seriously, when did they grow up? It's so not fair. And while my house is quieter and more peaceful while they are at school, it might actually be too quiet. I kind of miss their chatter. Well, kind of.
So yeah, I am feeling a lot of different and sometimes conflicting emotions right now and as my kids go back to school. Feelings like, for example, the following: