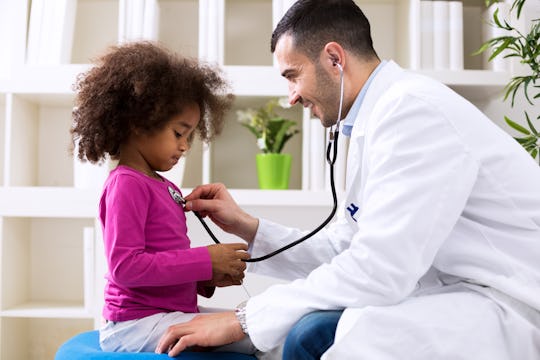 Fotolia
10 "Inappropriate" Questions Every Mom Wishes She Could Ask Her Kid's Pediatrician
When my son was a baby I needed constant reassurance about his health and well-being. I did the best I could to assess and care for him, but with so many new things to figure out (rashes? Rainbows of poo? Those terrifying breathing pauses?), I often felt like I was in over my head. Now that he's older, and I've been at this "mom thing" long enough, I've filtered through many of the questions that originally plagued me. However, I do have a few inappropriate questions for my kid's pediatrician that I will probably never get up the courage to ask, but still can't help but wonder.
When we're sitting in the exam room and my son's bouncing off the walls (seriously, why don't more of them have windows?), it seems like more of a priority to move the appointment along than to really dig into some of these unsolved mysteries. I kinda wish my kid's doctor would maybe do one of those anonymous question boxes, like we had in middle school sex ed where we could ask anything we wanted without fear of judgment (and, as long as we properly disguised our handwriting).
Alas, the "inappropriate question box" isn't a thing at my son's pediatrician's office, so I'm left to my own devices. For now, I'll keep these questions to myself (and all of you, of course) with the hopes that eventually they'll just be answered magically and all on their own. I mean, stranger things have happened, right?