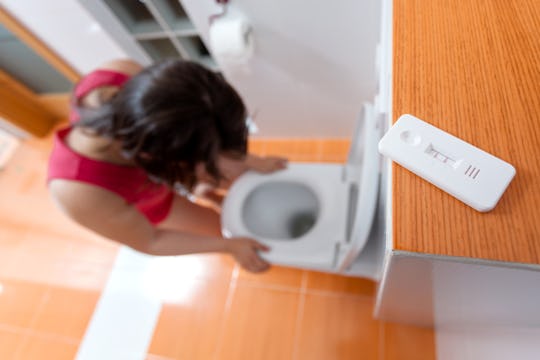 Photographee.eu/Fotolia
10 Of The Cruelest Things You Could Do To A Woman With HG
A year and a half ago, I met a new friend in a mom group on Facebook. We really didn't have that much in common, aside from us both being pregnant. She posted that she had hyperemesis gravidarum (HG) — severe nausea and vomiting in pregnancy. I wanted to make sure that she had at least one person in her life who understood the hell that is because, guys, other people don't get it. Whether intentionally or not, people do things to women with HG that are uninformed, rude, insensitive, and actually kind of cruel.
I honestly don't think people do these things on purpose. At least, I hope they don't. They just don't understand, and probably never will unless they go through it themselves. And there in lies the problem: you want some support and solidarity, but you wouldn't wish HG on anyone. So you're stuck, feeling alone and miserable. I also easy to assume that everyone is happy about their pregnancy. But trust me, when you are literally starving or throwing up 24-hours-a-day, it's hard to put on a smile and go on and on about a pregnancy you actually wanted. So, well-meaning people will say things like "at least you can get pregnant" or "it's just a few more months and you'll have a precious baby" and then you're left wondering if you should just puke on them.
Then, of course, there are the people who just don't understand the choices you have to make to stay healthy and alive, like taking medications to control your nausea and vomiting or having to take a leave of absence from work. It's more than a little cruel to compare your non-HG pregnancy experience to mine, or worse, to accuse me of being selfish for taking life-saving medication. My last two pregnancies were a nightmare because of HG, so much so that I made the decision to get a tubal ligation rather than risk getting pregnant ever again. I wish I could say that other people understood, but that was rarely the case. In fact, and sadly, most people did some pretty cruel things instead.